Dirty Words Under the Stars
Wednesday August 9 2006 @ 10:18 am
Last night, the Alamo Draft House-created/Netflix-sponsored Rolling Roadshow hit Red Bank for an outdoor screening of the original "Clerks".
This is what the park looked like while the crew was setting the screen up earlier in the day…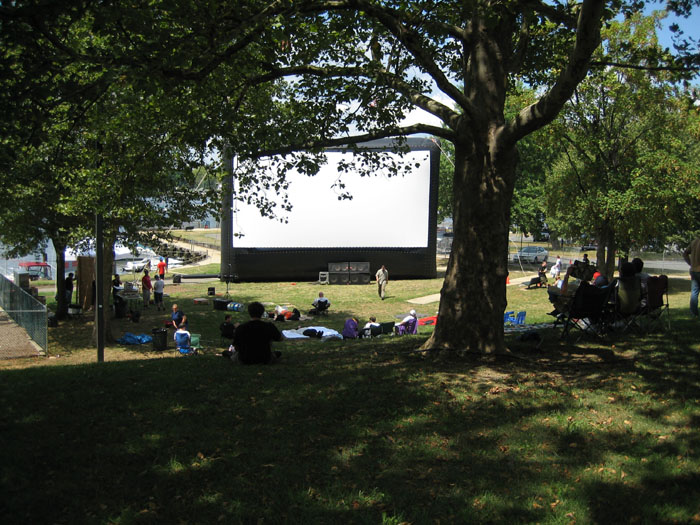 Now imagine that place jam-packed with people, and you'll get an image of what the screening looked like later that night.
We packed the house. 2500 people were allowed into the fenced-off "theater" and another 1000 plus had to be turned away. Brian O'Halloran (Dante) and Marilyn Ghigliotti (Veronica) were in attendance, and limited edition Roadshow-themed posters were sold.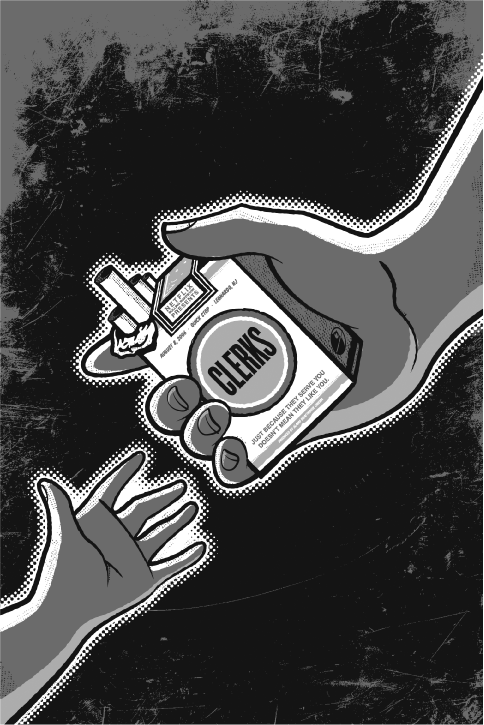 It was a pretty cool crowd. Granted, there were some not-so-great questions at the pre-show Q&A I did, but it was all good and damn fun stuff.
Many thanks to Pat Menna and Mayor McKenna for giving the screening a home in Red Bank after Middletown Township unnecessarily gave us the boot from Leonardo. The show started at 7:15 and everyone was cleared out of the Marina by 10:30-ish, with no reports of the bad behavior the Middletown authorities were worried about. It's a shame, as it would've been really cool to watch the flick right across the street from Quick Stop itself, however with the giant screen being backed by the river and a full moon, I can't imagine a prettier setting for such an ugly (aesthetically) movie.
Thanks to Tim League and his Rolling Roadshow crew for making it all happen. Thanks to Ming and Ian, who were the Roadshow's local reps. Thanks to John and Janet Pierson for being instrumental in getting "Clerks" on this year's Roadshow menu. Thanks to Netflix for sponsoring this year's fest. And thanks to all who came.
I can't impart this emphatically enough: if you get a chance to attend ANY of the Rolling Roadshow screenings over the next few weeks, GET YER ASS THERE! It's a pretty incredible experience.
Now let's all start bugging Tim about doing "Mallrats" in the parking lot of the Eden Prairie Mall at next year's Rolling Roadshow tour.
Some additional links…
The Asbury Park Press piece about the event.
The Reuters piece about the event.
A weird bit of non-news from the event, regarding a girl who asked me to sign her ass cheek so she could get my name tattooed there.