Toronto Tomorrow; UK in mid-October
Wednesday September 26 2007 @ 10:21 am
So I'm in the midst of whoring out both "Reaper" and my book, in what I like to call the Boring-Ass Tour…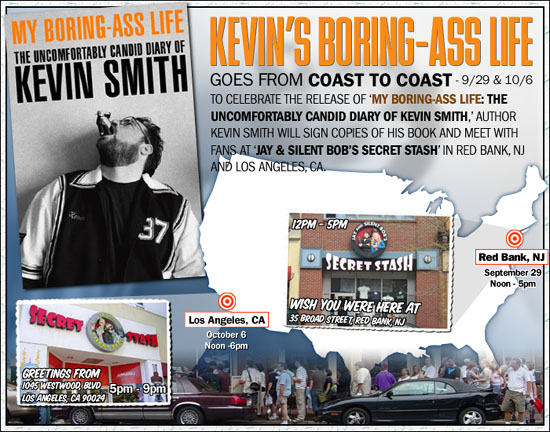 I kicked it off last week with some NPR appearances ("Fresh Air", "Wait, Wait – Don't Tell Me"), then spent five hours with Opie and Anthony Monday morning. Yesterday morning, I did a multiple city radio tour in the a.m. and then enjoyed my first appearance on "The Late Show with Davide Letterman." This morning, I was on "Good Day, New York."
But tomorrow, I spent the day in the Great White North. I'll be up in Toronto as of this evening, getting a good night's sleep in advance of the jam-packed day – for which, I present the schedule here…
Thursday, September 26th
6.45 AM – 8.30 AM
Breakfast Television
LIVE interview
9.00 AM – 9.45 AM
102.1 The Edge
LIVE Radio Interview
10.00 AM
Globe and Mail
11:00 AM
Toronto Star
12.00-12.45 PM
Metro Newspaper
12.45-1.10 PM
Webnation- Webcam Interview
2.30-3.30 PM
CTV E-Talk Daily
4:00-5.30 PM
The Hour
2 Segments (aired same night @ 8PM)
6.50-6.55 PM
Mad Dog and Billie 99.9 MIXFM
TAPED 5-minute radio interview to be aired morning of 9/28
7.00 PM
Indigo Eaton Centre Toronto
Q&A and signing
The first Jay and Silent Bob's Secret Stash signing for "My Boring-Ass Life" is in Red Bank, NJ, THIS SATURDAY (Sept. 29th), starting at noon. The second Stash Book signing will be in Los Angeles on October 6th, starting at noon as well.
Then, a week later, I'm heading over to the UK to pimp the book as well. If you're in Blighty, here's a schedule you can look at, in case you're interested in getting something signed
UK Press Schedule
Friday 12th October
The Late Late Show. The main Irish chat show. Live prime time TV.
Monday 15th October
TV AM. The other main Irish TV Show.
RTE RADIO – THE TURBRIDY SHOW.
Tuesday 16th October
5.00 – 7.00pm
FORBIDDEN PLANET Public signing
Wednesday 17th October
7.45 – 8.30am
THE CHRISTIAN O'CONNELL BREAKFAST SHOW – VIRGIN RADIO
9.00 – 9.30am
EMPIRE
10.00 – 11.00am THE SUNDAY TIMES – 'MY HOLS'
10.30am – 12.30pm
MTV shoots:
MTV 2 GONZO
MTV ONE UK – NEWS
MTV ONE – SCREEN
MTV ONE
3.30 – 4.00pm
FHM – Interview
4.15 – 6.15pm
THE OBSERVER Magazine– THIS MUCH I KNOW
6.45 – 7.15pm
BIZARRE magazine – HOW BIZARRE ARE YOU?
8.30 – 10.00pm
NUTS TV
Thursday 18th October
11.30am – 12.15pm
BBC RADIO 1 – COLIN MURRAY SHOW
12.30 – 1.00pm
BBC RADIO 2 – THE WEEKENDER
2.30 – 3.00pm
BBC RADIO 1 – EDITH BOWMAN SHOW
3.35 – 4.25pm
BBC RADIO 4 – THE FILM PROGRAMME
6.00 – 8.00pm
BORDERS BOOK SHOP – PUBLIC/STOCK SIGNING
Friday 19th October
8.10 – 8.40am
XFM – ALEX ZANE BREAKFAST SHOW
10.45 – 11.15am LOADED magazine
11.30am – 12.00pm
FREELANCER INTERVIEW
12.30 – 12.50pm
SCI FI CHANNEL
2.20 – 3.20pm
BBC RADIO 5 LIVE – THE SIMON MAYO SHOW
4.00 – 5.00pm
PLAYBOY TV – PLAYBOY FOCUS
Am I missing anything while over there? Let me know and I'll see if I can get it added.
Helpful tips for those attending this Saturday's Secret Stash signing…
* Get there early, however, 'lest you face this again.
* Purchase of a copy of "My Boring-Ass Life" on location at either Stash is required. Limit 2 signed items per person (in addition to the book).
* We reserve the right to cut the line off at any time for any reason (like the Apocalypse).
For more info on the Red Bank and Westwood Stash signings, click here.
I hope to see/meet some of you at these various appearances.
Blog update coming soon. Promise.