NC17 No More, Toronto and Crazy 4 Cult!
Friday August 15 2008 @ 1:01 pm
At an appeals screening last week, we were able to overturn the MPAA's NC17 rating for "Zack and Miri Make a Porno" to a more audience-friendly R without making any cuts…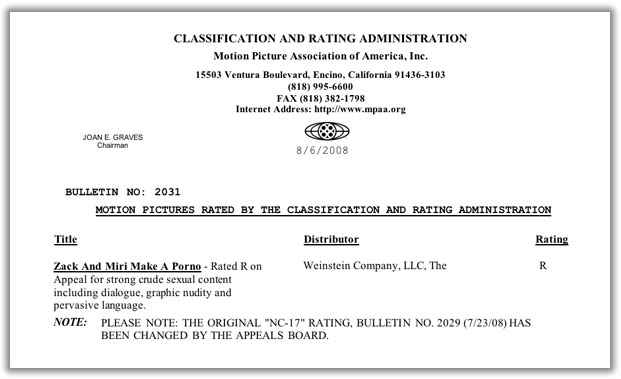 All that really means is that what you see in theaters will be exactly what we were hoping to show you in theaters. None of this waiting around for the unrated DVD shit.
Meantime, here's another pic from the flick…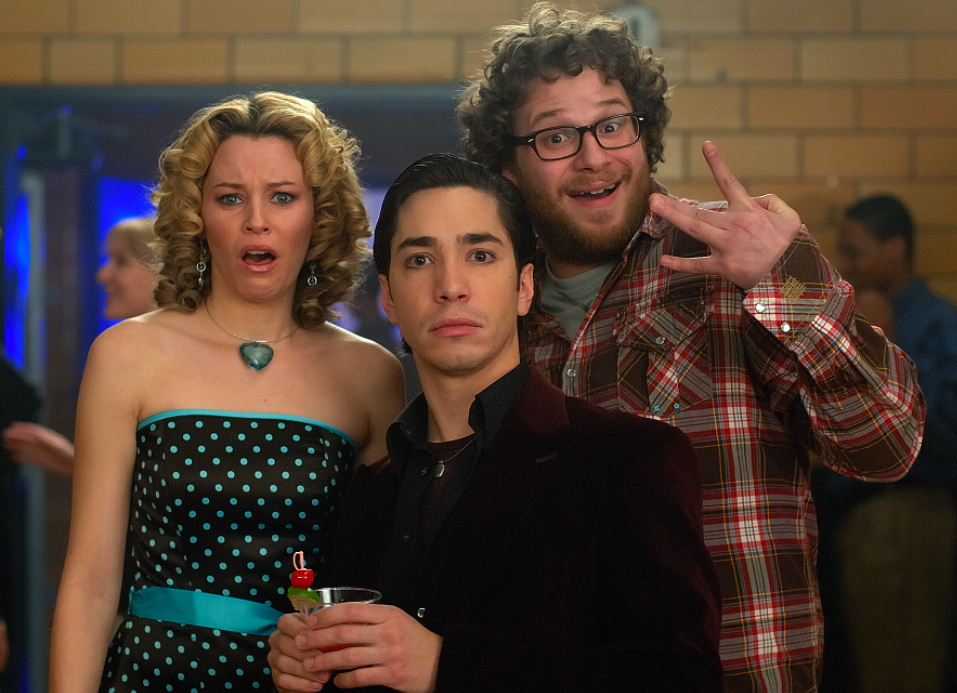 "Zack and Miri Make a Porno" opens October 31st.
——————–
Crazy 4 Cult 2 is happening next week (on Melrose here in Los Angeles), and to get you a little wet for it, here are some advance images from the show…
Giant versions of 2cents' promo pieces are being installed inside the gallery…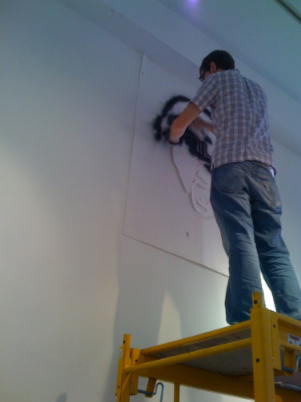 As well as outside…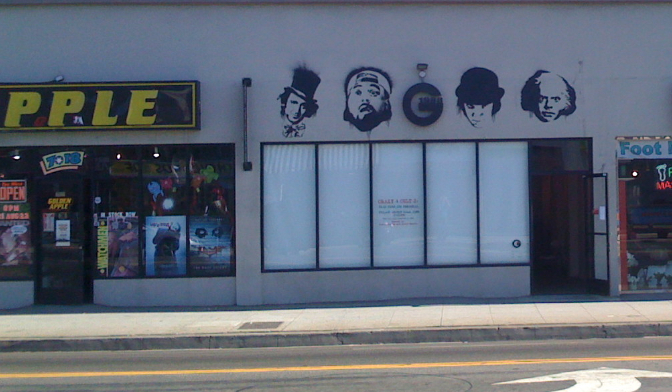 When the show opens, you'll see pretty fantastic pieces inspired by cult cinema. Like this piece by Andrew Wilson that's a veritable orgy of movie characters…



(If you wanna identify every character in the piece, surf over to this page).
Peep this "Stand by Me" piece…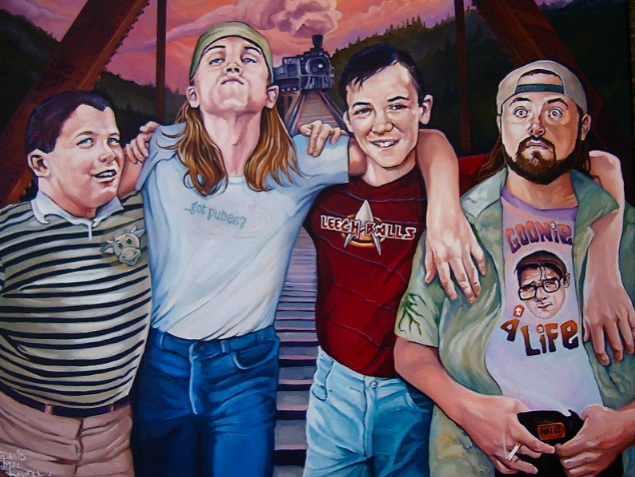 Here's a familiar family portrait…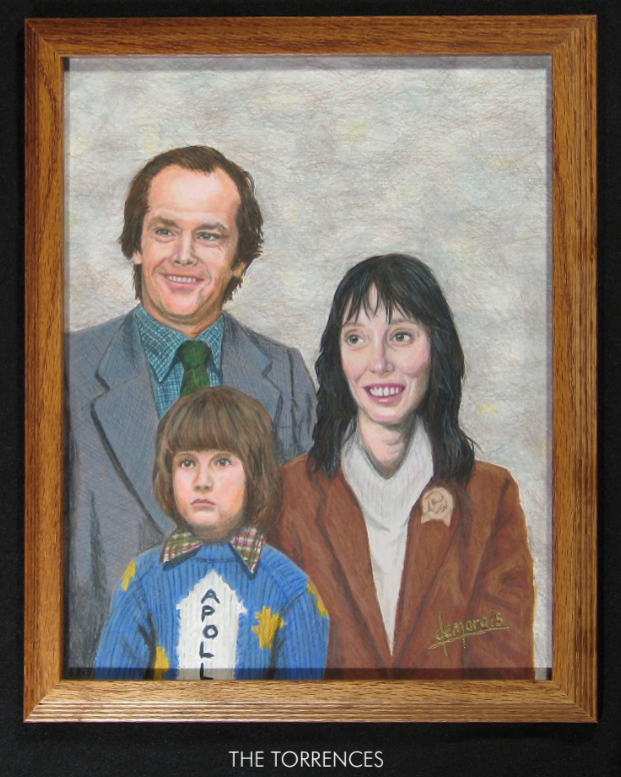 Name the flick…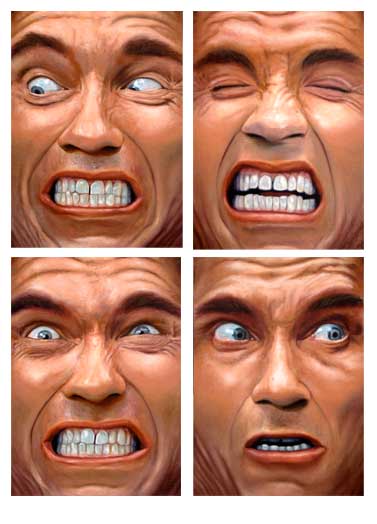 Genius…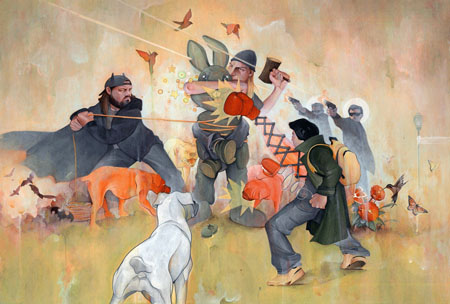 Some of you may remember the Crazy 4 Cult art exhibit Scott and I hosted at Gallery 1988 (on Melrose in L.A.) last summer.
Well, it's happening again…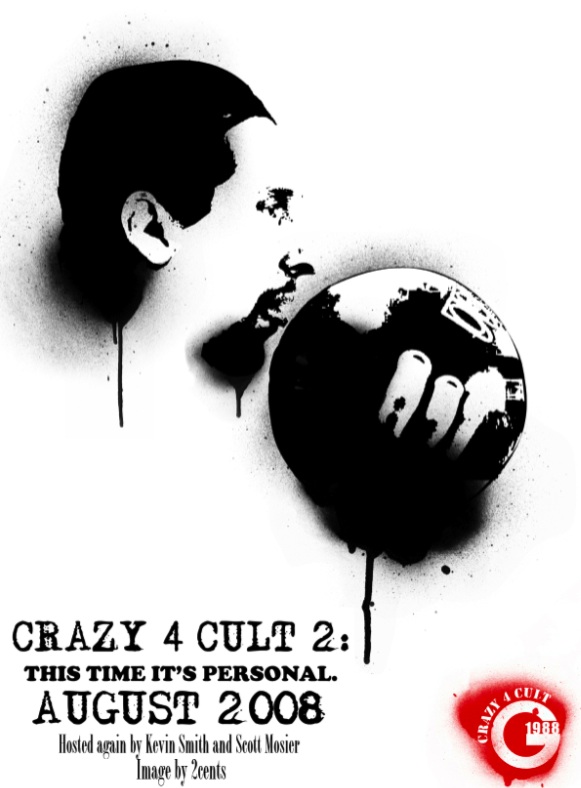 August 22 at Gallery 1988, on Melrose in Los Angeles. View some wicked cool, movie-inspired art, then hang out afterwards for a party in the parking lot. If it's anything like last year's show, it's gonna be crowded (over a thousand peeps showed up) and fun.
—————–
If you're gonna be in L.A. for the show, how's about rolling some cards as well?
The next (and first one since last year) Secret Stash West Hold 'Em McNeil Poker Tourney is the day after the Crazy 4 Cult event: Saturday, August 23rd. Interested parties looking to secure a seat and take home some green should send those emails to donkey@viewaskew.com.
—————–
You say you're on the east coast and can't make it out for either Crazy 4 Cult or the Stash West Poker Tourney? No worries: we've got an events for you, too.
Firstly, the Toronto International Film Festival just announced that "Zack and Miri Make a Porno" will have it's world premiere there, Sunday, Sept. 7th. You can buy tickets here, starting Sept. 3. Be one of the first to see the flick in advance of its October 31st opening!
If you can't make it to Toronto for the screening, how about coming to Jersey for some Q&A? On November 7th, I'll be at the Count Basie Theater in Red Bank for my third hometown Q&A…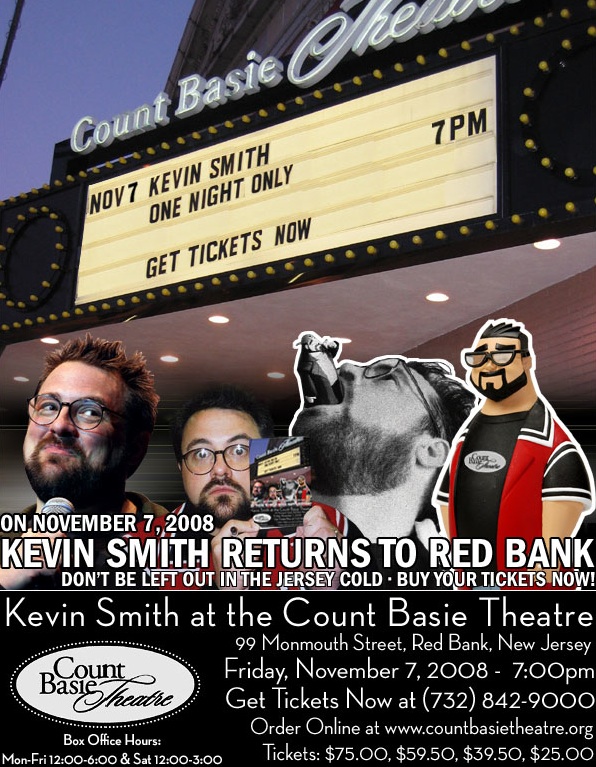 Last year's show was shot for the next "Evening with Kevin Smith" DVD (due in stores this October). This time, there won't be any cameras getting in our way, as we shoot the shit for five-plus hours. Ticket info can be found here.
—————-
In case you missed me at the San Diego ComiCon this year, here are a bunch of links to some YouTube clips.
It was a busy Con for me: I moderated two panels (Scream Like a Girl and the "Battlestar Galactica" panel), sat on another (the Entertainment Weekly Visionaries panel), and hosted my own (the "Zack and Miri Make a Porno" panel). Peep out the clips.
—————
The kind folks at VisionFest are giving me an award next week, at the Director's Guild here in L.A. Not sure if it's open to the public or not, but if it is, roll up.
—————
We're unloading more props! Click here for the current Auctions Askew list.
——————
And just so it's not all about me and my shit…
I saw "Watchmen." It's fucking astounding. The Non-Disclosure Agreement I signed prevents me from saying much, but I can spout the following with complete joygasmic enthusiasm: Snyder and Co. have pulled it off.
Remember that feeling of watching "Sin City" on the big screen and being blown away by what a faithful translation of the source material it was, in terms of both content and visuals? Triple that, and you'll come close to watching "Watchmen." Even Alan Moore might be surprised at how close the movie is to the book. March can't come soon enough.