SModcastle Pulls Up The Drawbridge
Friday April 15 2011 @ 1:54 am
For months now, I've been seeing a few "You ever going back to SModcastle?" Tweets. Since I was buried balls-deep in The Red State USA Tour, I didn't have the spare time to fully elaborate on our plans for SModcastle.
Now I do…
But before that happens, peep out the new Jay & Silent Bob Get Old artwork, courtesy of the always amazing Allan Amato!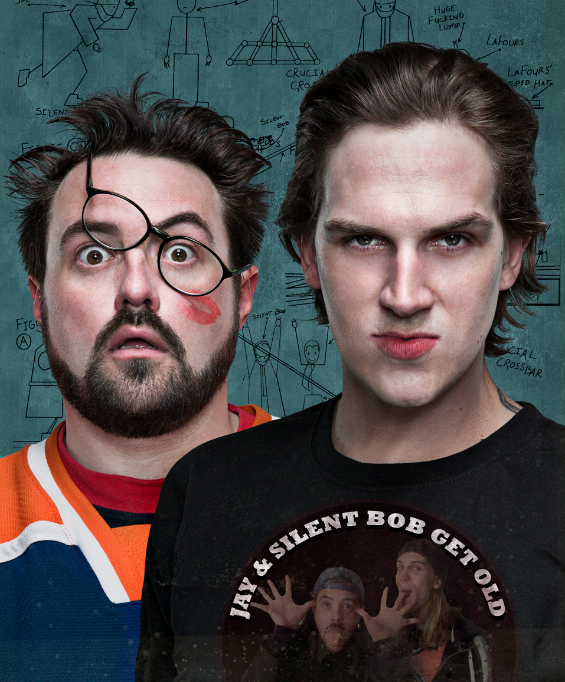 Ralph, Scott and I are doing our portrait sittings with Allan tomorrow, so expect brand new artwork for Babble and SModcast.
Okay – SModcastle History, 101…
About a year ago, I was unnecessarily and unfairly pitched off an airplane, told I was Too Fat To Fly.
As a result, I started renting tour buses to get to my Q&A gigs across the country. While on the bus alone, I started thinking how fun it'd be to tour with SModcast like a punk rock band.
I asked Jeff Hyman to book some live SModcast shows across the country. Billed as Live Nude SMod, nearly each show sold out. Mos and I went from recording solely in the quiet of my library to suddenly doing two shows a night over the course of two weeks, all over America. Naturally, we quickly launched second and third tours.
Following Live Nude SMod 2: The Wee, Wee Tour, I was musing on Twitter about how much I suddenly missed doing SModcast live, now that we were home. I Tweeted a dream of a black box theater in Los Angeles, where we could do live podcasts whenever we wanted. Matt Cohen picked up that ball and ran with it. In July, we opened the portcullis on SModcastle – the world's first and only podcast theater.
SModcastle was born of SModcast but quickly became the house that Babble-On built. Ralph Garman packed 'em in weekly, regularly selling out the 50 seat venue – a feat matched only by Jason Mewes when we launched Jay & Silent Bob Get Old. SModcastle gave birth to BlowHard, SMovieMakers, Red State of the Union, Crimson Mystical Mages, Having Sex, with Katie Morgan, and SMarriage. It was home to Bagged & Boarded, Tom Green, SModist @Nerdcastle, StarFucking and many more. We offered so fucking much in such a short amount of time in that little space on Santa Monica Blvd.
Everything but booze.
After months of Babble-On and Get Old easily selling out our tiny SModitorium, it was clear both shows would flourish in a bigger, club-like space. Scott and I had done SModcast at comedy clubs a few times, so I asked Ralph to sniff around town and see if another club wanted to host Babble. Ralph came back with The Jon Lovitz Comedy Club, at Universal CityWalk.
It was love at first sight. The Lovitz was formerly the home of BB King's – the restaurant/club where Mtv had shot the Mallrats Premiere Party back in 1995. The Lovitz not only fit a bigger crowd, it's located in one of the only foot-traffic hot-spots in all of Los Angeles: Universal CityWalk attracts tourists from all over the world (some of whom have actually heard of Jay & Silent Bob) and Ralph's morning gig on KROQ helps us keep the Babble seats full.
After Babble's debut night at The Lovitz, Matt Cohen asked me how I thought it went.
"We're gonna move up there within a year," I said.
I was off by a few months…
In May, SModcastle is closing.
However, also in May: SModcastle is re-opening at The Jon Lovitz Comedy Club at Universal CityWalk as SModcastle Lounge.
Taking over the entire top floor of The Lovitz, SModcastle Lounge will eventually serve as the home of SIR every morning. Until then, it'll serve as the premium seating level for SMidnight @SModcastle Lounge: after-show podcast for both Jay & Silent Bob Get Old and Hollywood Babble-On. When you sit upstairs in the SModcastle Lounge, you're watching Hollywood Babble-On or Jay & Silent Bob Get Old like everybody else; but when those shows are over, you are the show – as Ralph, Jay & I turn the microphones on YOU!
So for $20 at The Lovitz, you can see a show – but for $50, you can be the show! Limited to 25 seats. Each show ends at 12:30am.
SMidnight @SModcastle Lounge starts Fridays at 11:30 with Acting with Mewes & Youse! Take to the SModcastle stage with Hollywood veteran and movie professional Jason Mewes, as you – the audience – partake in your favorite movies scenes with a real, live actor!
On Saturdays, SMidnight @SModcastle Lounge starts at 11:30: Babble-Off, with Ralph & Kevin. On this post-show podcast, we give you the chance to out-funny us – as you tell us your best stories or jokes! Make us laugh and you win a t-shirt!
But that's not all we've got planned for The Lovitz. Check out what we're brewing for SMummer 2011 and beyond…
- The SMorgy Pajamma Jammy-Jam! To celebrate the opening of SModcastle Lounge, we're launching a 24 hour podcasting marathon! 200 crazy sumbitches will spend the night in a house haunted solely by the unending navel-gazing of podcasting giants! Ever wanted to spend the night with Bryan Johnson or Katie Morgan? You'll be doing just that in this once-in-a-lifetime experience! We'll be serving lunch, dinner and breakfast, so bring your jammies!
- On Sundays, we launch our version of church: from 11am 'til 1pm, join me and Mewes for
Jay & Silent Bob's Sunday Morning Movie Triva Super-Challenge & Pancake Brunch. Eat amazing pancakes while we podcast a trivia game show that you play in table teams! Win cool prizes and get real fat – all before the Sunday afternoon movie matinees begin!
- During the next semester of Red State of the Union Q&A Class, toss back some beers as you hear more cast and crew tales of making it and taking it in the movie biz.
- I'm joined by Lovitz Theater namesake and comedy legend Jon Lovitz for The ABC's of SNL – an ongoing series in which we reminisce with anybody who ever had anything to do with Saturday Night Live. Expect some Not Ready For PrimeTime Players, some writers, some founders, and LOTS of laughs.
- Now all SMarriages can begin as lifelong unions should begin: drenched in drinks and stuffed with food! And the audience can get as toasted as the guests on SMovieMakers!
- Gaming Events with Jason Mewes, such as this Saturday's SModern Warfare: Call of Mewes! Expect a hockey tourney and lots of YooStar fun in the weeks to follow.
- Now that we're Lovitz partners, expect lots more podcasting legends to hit the stage for monthly and weekly shows! Nerdist! WTF! Doug! I'm talking to you guys!
- Vulgarthon Film Festival! Nostalgia alert! See the flicks that put us on the map and listen to the stars behind your favorite Askewniverse flicks tell tales of how shit was way back when!
- Graphic Novel Theater: Dramatic renditions of comic books, read aloud! We pick three people from the audience to join a panel of pros on stage for a dramatic reading of legendary comic book stories. First up: my Green Hornet run from Dynamite. Which kinda leads to our favorite future plan for The Lovitz…
- JAY & SILENT BOB'S BABBLE-ON COMI-CON! That's right: a bi-monthly comic book show will take over The Lovitz and offer three floors of vendors to shop, as well as a stage for programming – where you can see genre pros offer sneak peeks of their blockbusters long before they hit theaters and listen in as Kevin or Ralph interviews them about the movies you love!
So, this move isn't an ending – it's merely a graduation. SModcastle has grown up very quickly and delivered us to the big leagues: motherfucking CITYWALK! But more than that? It's put us into business with a guy who spent years making us laugh. As a huge SNL nerd who always dreamed of writing for the show when he was a kid, that's pretty awesome and poetic.
And based on what it's done to his club, Lovitz is now committed to the podcast cause. His year-old club has fast become the podcasting center of the universe, making him a Podfather of sorts – so much so that he's renaming the club for our arrival…
Starting this June, The Jon Lovitz Comedy Club will be re-christened as THE JON LOVITZ PODCAST THEATRE!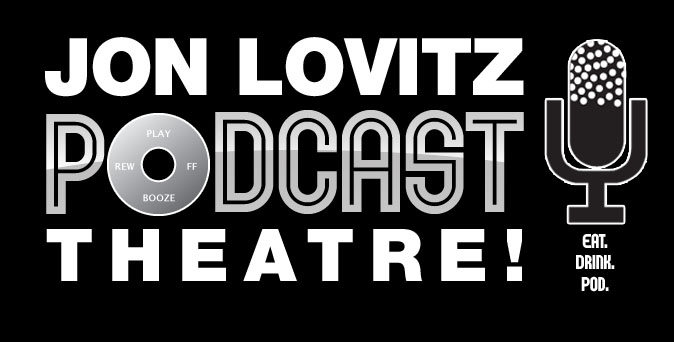 So hang with the stars of SModcast.com all SMummer long in the SModcastle Lounge – only at The Lovitz. Go mildly bacchanalian! Eat! Drink! Pod!
And if anyone ever tries to unfairly and unnecessarily pitch your fat ass off a plane, don't sulk: build a talk empire instead.
Speaking of which: Only 24 days 'til SIR…
———————
Next Week: Look for a new Red Statements blog in which I'll do a post-tour wrap-up and let you know where we stand financially.
Without burying the lead? It's pretty terra firma right now…
Also? What the fuck are you waiting for? Come http://seesmod.com/