I joined FaceBook, the new Secret Stash, and other stuff
Monday November 5 2007 @ 1:56 pm
So I've been kinda busy, as we're now in full-fledged pre-production on "Zack and Miri Make a Porno." Rather than try to diary-blog the last few weeks, here are the bullet points of what's been happening…
- We locked our "Zack." Announcement soon, I imagine.
- The deal for our "Miri" is still being negotiated.
- We started casting the other major parts. Held three days of auditions, during which our "Zack" came in to read with all the potentials. Cast is shaping up nicely.
- Went trick or treating with the wife and kid.
- "Heroes: Origins" has been temporarily shelved by NBC. It's not completely dead; but with all the Writer's Guild strike stuff happening, they've opted to slow their roll with "Origins." I'm a little bummed, but also a little relieved – as it meant I would've had to rush back to L.A. the day after we wrap "Zack and Miri" to start shooting the "Heroes" ep. Now, there's more breathing space. Wouldn't be surprised at all if "Origins" was put in motion again next season instead of this season.
- Hit Jersey for another Secret Stash poker tourney and out of the 24 playing, I was "bubble boy" yet again…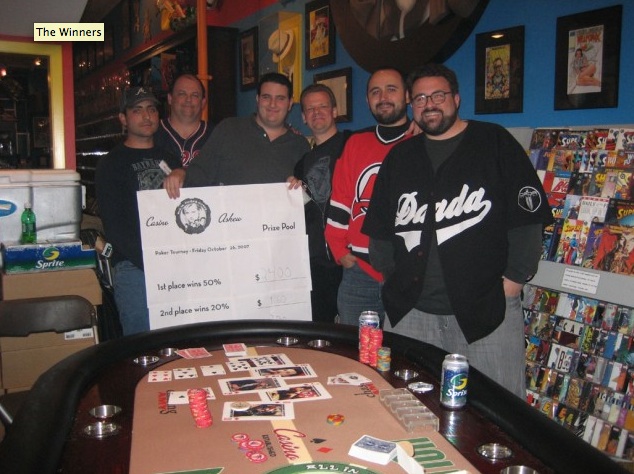 (From left to right: 3rd Place Josh, 5th Place Darryl, 1st Place Jared, 4th Place Steve, 2nd Place Ralph, Bubble-Boy Me)
In the cash game that followed, the straddling got kind crazy-stupid – getting as high as a $220 pre-flop call…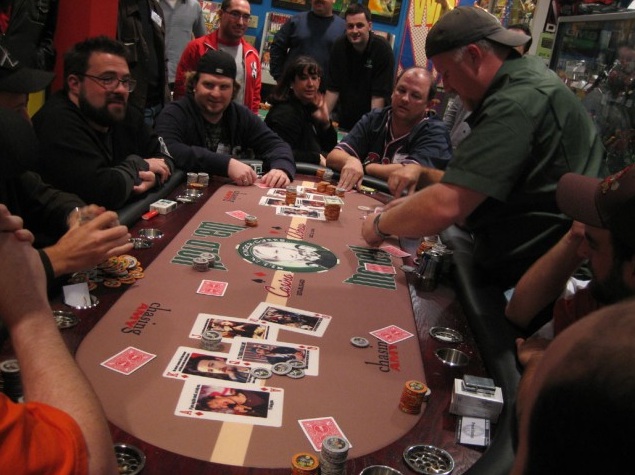 - The night after poker, I hit Newark for the Devils' opener at their new home, The Prudential Center Arena (aka, The Rock). It's a fucking amazing rink, a thousand times nicer than their former Meadowlands (Brendan Byrne, Continental Arena) home. Would've been awesome if they rocked the Sens, but Ottawa prevailed (four nights later, though, the Devs butchered Tampa Bay in what I now like to consider the first home game). Whether you're a hockey fan or not, if you live in the tri-state area, get your ass to Newark to see this place. It's pretty awesome.
- The next day, Jim Jackman and I drove over to Pittsburgh, where I did some preliminary location scouting and checked out where we might live (as well as a school for Harley) while we're in town 'til March. The production office opened that Monday, so it's official: we're making a movie.
- Completely derailed from my diet, like a jerk, and gained a shit-ton of weight. Was able to get ahold of myself, and am now on Day Five of Diet v.96 or something. I'd rather be eating.
- Did "The Bryant Park Project" on NPR.
- "Battlestar Galactica" offered me another episode to direct. Sadly, I'll be in Pittsburgh, two weeks out from our start date at the time. *sigh*
- Attended the "Southland Tales" premiere on Friday.


- But the biggest news, I'd imagine, is about Jay and Silent Bob's Secret Stash West.
We're re-opening Nov. 19th at our new location!
Anyone who's read "My Boring-Ass Life" knows that I'm a big, fat DVD junkie, and that my pusher is Ron, who runs Laser Blazer – the best DVD store in Los Angeles (if not the world). As you might've read in the last big blog entry, rather than see us close up shop on the West Coast, someone offered the Secret Stash West a new home. That someone was Ron. That home is inside Laser Blazer.
So for the last two weeks or so, Ron's been pulling out all the stops, demolishing a large section of his store to make room for the Stash…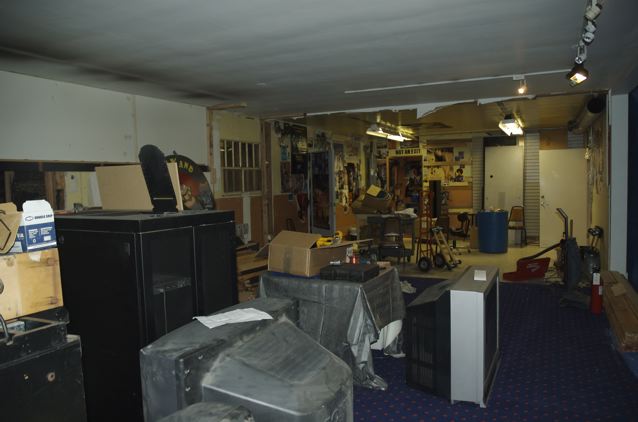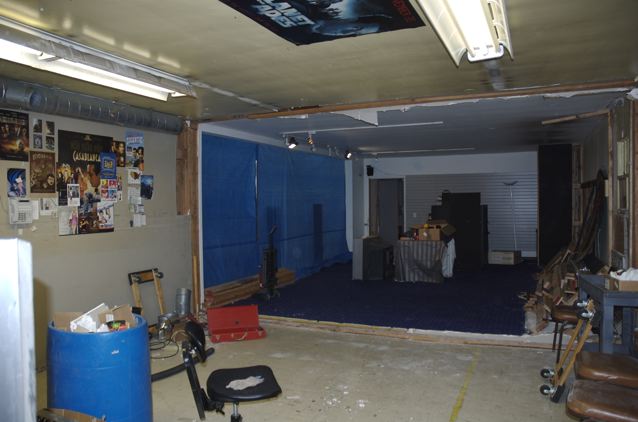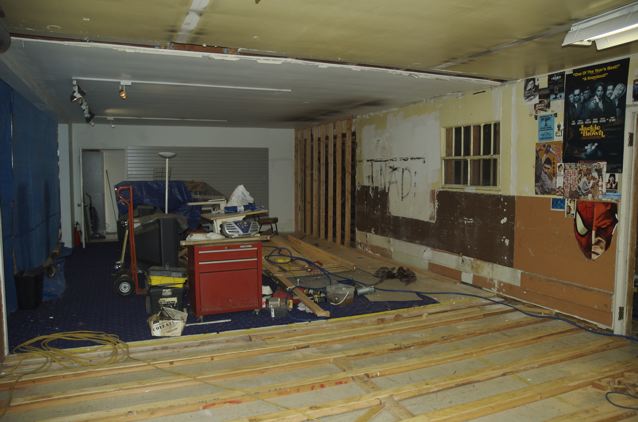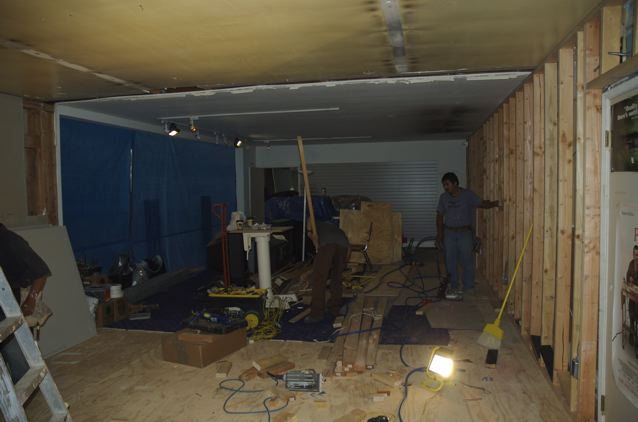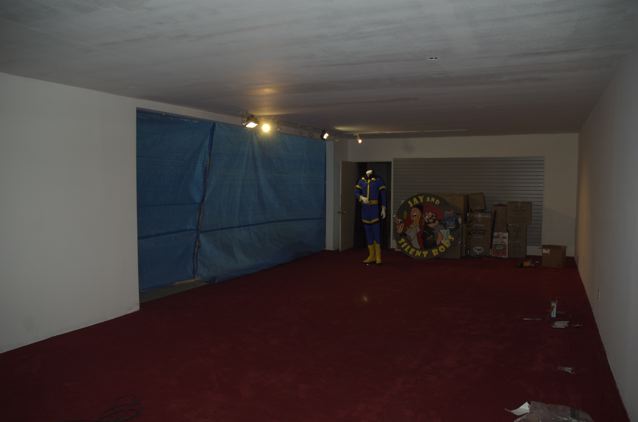 I'll let you know what's going on for the opening. But for now, that address is…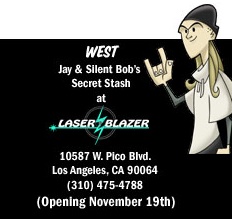 - We've put up another Auctions Askew that's got some stuff you might wanna give a friend (or yourself) for Christmas…

- And finally, this morning, the new SMod went live…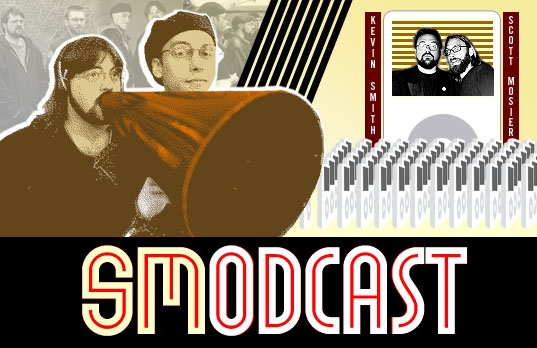 SModcast 36: I'll Stop the World and Melt with Mewes
In which a pair of relics from mid-90′s pop culture talk about getting old and boring, examine the conditions under which sexual congress with the breathing challenged might be acceptable, discuss the alternative brances of a family tree, and take "Paper or plastic?" to a whole new level.
Stop reading this and download that shit right now, then come back and let me know what you think.
Brought to you by Kevin, Scott, and the good folks at…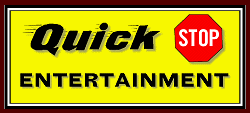 CLICK HERE FOR SMODCAST!
(Also available through an iTunes Subscription.)