Rosario, the Prom, and the Week That Was
Wednesday August 8 2007 @ 4:26 pm
A few short weeks ago, in this Mtv.com interview, I was asked about Rosario Dawson's involvement in our next flick, "Zack and Miri Make a Porno".
"I wrote it for Rosario Dawson," I responded. "I'd be kind of flabbergasted if she didn't do it."
Yesterday, Mtv.com ran this article, in which she was asked about her involvement in "Zack and Miri Make a Porno".
"It's going to be a really interesting film. I don't think I'm going to be a part of it. He wrote it for me, but I'm just signing on to do ["Eagle Eye"] and that's going to be shooting from November to March."
It has prompted the following internet articles…
Rosario Dawson ditches Kevin Smith's Zack and Miri Make a Porno for Eagle Eye – slashfilm.com
Rosario Dawson Says She Won't Be Making a Porno with Kevin Smith – Cinematical.com
Rosario Dawson Dumps Kevin Smith – Cinemablend.com
What can I say? It kinda sucks. And not inasmuch as "Jesus – we'll never find another actress for this role!" It kinda sucks because, like I've said, I wrote the part with Rosario in mind/for Rosario to play.
How did this happen, you ask?
Well… it's kinda my fault.
I wrote "Zack and Miri" with two actors in mind for the respective leads: Rosario, natch, as Miri, and this other guy as Zack. The idea was to shoot it sometime after the first of the year, post "Red State", but the reaction to the "Zack and Miri" script was so enthusiastic across the boards (from producer Scott Mosier, everyone at the Weinstein Co., the agents and managers of both Rosario as well as the unnamed male lead, Entertainment Weekly), that it got fast-tracked into first position (something that wasn't hard to do, considering "Red State" wasn't finished yet). Suddenly, we were looking at an Oct/Nov '07 start for "Zack and Miri".
Then, our prospective male lead needed some time to get some stuff done, so we moved "Zack and Miri" back to a January start – which would mean a late October/early November pre-production start (precluding any pre-"Zack" start for "Red State"). This would've mean Rosario would be sitting on her hands all fall, waiting to shoot "Zack and Miri". And with the impending strike, with actors not knowing if they're gonna be working at all post-March, that's a tough request to make of any actor.
Then, along comes "Eagle Eye" – the flick starring man-of-the-moment Shia LeBeouf, to be directed by "Disturbia" helmer D.J. Caruso – based on an original idea by…
Wait for it…
Steven fucking Spielberg.
I mean, who wouldn't take that gig?
Problem is, "Eagle Eye" starts shooting in November and doesn't wrap 'til Feb/March. Well, that's not really a problem for anyone… except me and "Zack and Miri".
So here I sit, momentarily, without a leading lady.
*sigh*
However, this is the nature of the movie business. It happens all the time. You start off thinking… knowing who your cast is gonna be, and then it changes on a dime.
I rewrote "Dogma" with Joey Lauren Adams in mind for the lead and Sam Jackson as Rufus. The parts wound up going to Linda Fiorentino and Chris Rock instead.
I wrote the first fifty pages of "Jersey Girl" for Bill Murray and Joey Lauren Adams. The parts wound up going to Ben Affleck and Jennifer Lopez.
I wrote "Clerks II" with my wife Jen in mind to play Becky. Then, we went to Liv Tyler, Bryce Dallas Howard, Ellen Pompeo, and Sarah Silverman, before ultimately casting… Rosario Dawson. And Rosario did such an amazing job in that flick, that I wanted to put her in the next flick – "Zack and Miri Make a Porno" But alas, it's not to be.
I'll miss her, to be sure, but spin control dictates that I've gotta say maybe this is a good thing: certainly for Rosario (why be in the donkey show guy's next picture when you're invited into Camp Spielberg?) and maybe even for me and "Zack and Miri". I've never worked with our (potential) male lead before, so it might be nice to have a female lead I've also never worked with before.
Anyway, there it is. I apologize that the tale's not more juicy or that it doesn't involve delicious bridge-burning and name-calling, but sometimes, schedules just don't blend – no matter how much you want them to – and you just have to be understanding about a great opportunity for someone you dig. Rather than curse my friend for making the right career decision, I'm elated for her. Go, Ro, Go!
But that was the only (somewhat) downer of last week. The rest of it was all blowjobs and lollipops.
I turned thirty seven.
Yes – "Thirty seven?!?"
The week was spent back east in Red Bank, NJ – the town where I sprang forth from my Mother's vag.
Wednesday night, we played poker at Jay and Silent Bob's Secret Stash 'til five in the morning.
Thursday night, my actual birthday, I did this…
…stood on a stage at the fifteen hundred seat, sold-out Count Basie theater…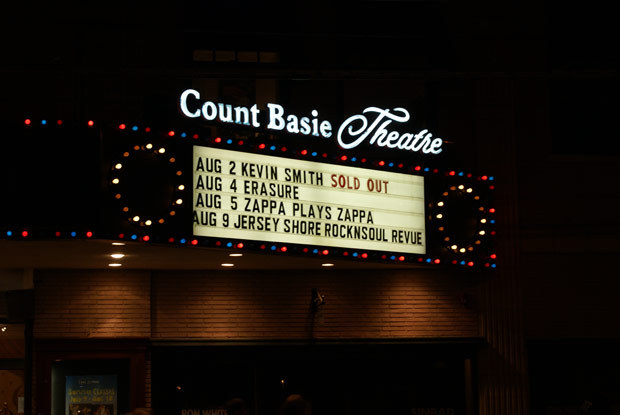 (The irony of the sign was not lost on me, I assure you)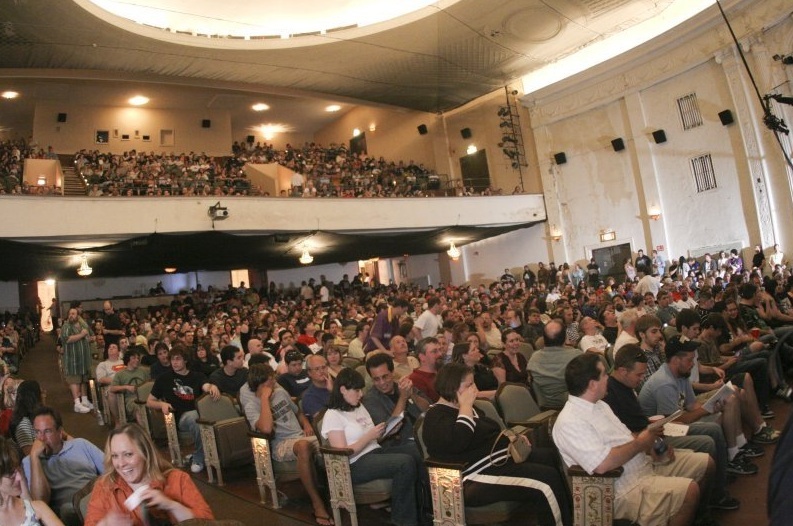 (The aforementioned crowd)
…shooting the next Q&A DVD for six and a half hours. Yes, the backdrop was, indeed, my giant baby picture.
It was a great night, with Jen and Harley introducing me…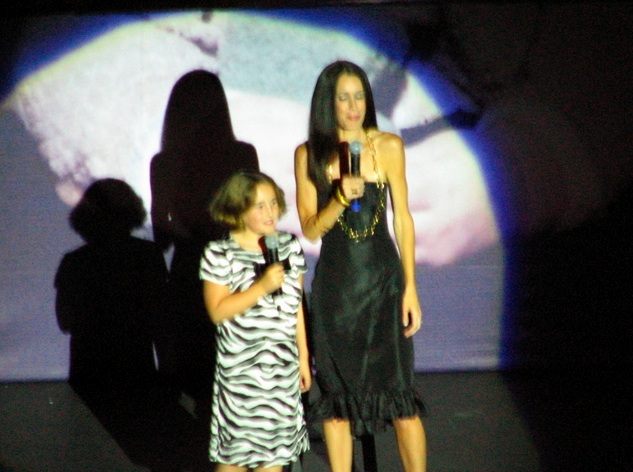 …to an extremely enthusiastic audience, and me telling all new stories I haven't done on DVD yet. And I even got to give a shout-out to my Mom (who was in attendance)…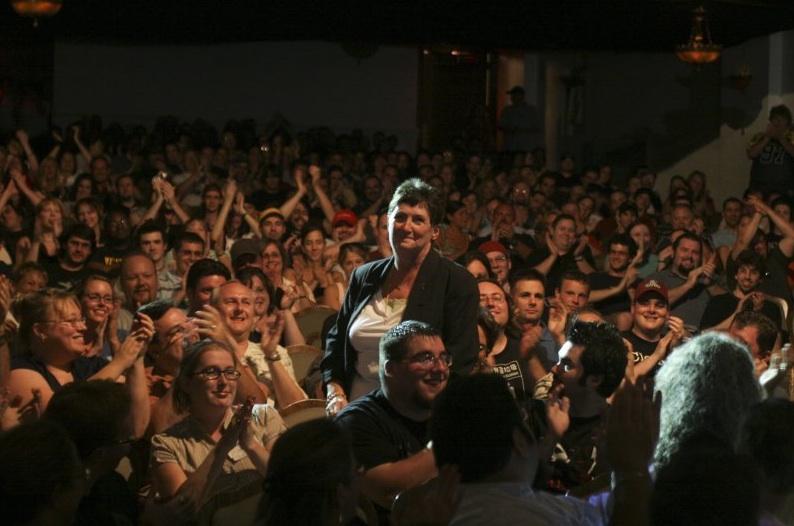 (Our local paper, The Asbury Park Press, does a write-up here, courtesy of Mark Voger.)
Friday night, we held another poker game at the Stash – this time a tournament.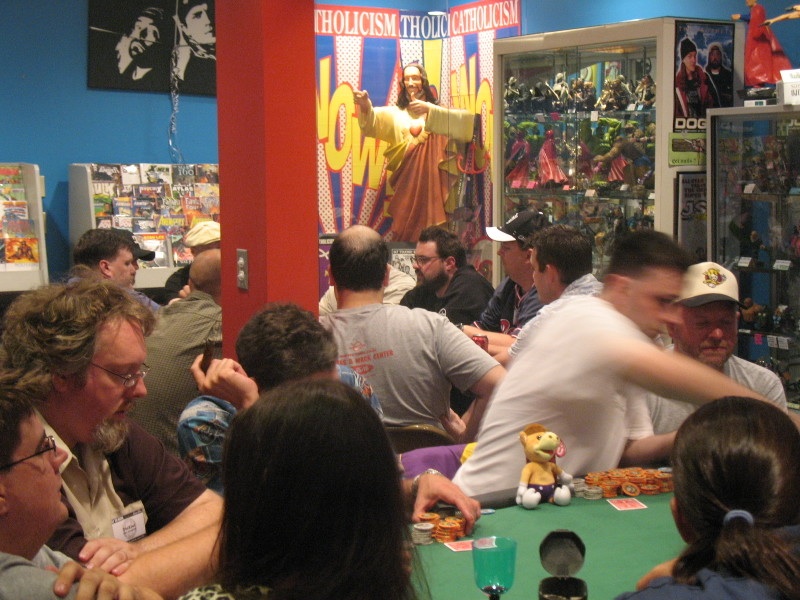 Twenty eight people played, but I was the bubble boy, knocked out right before the top five paying slots. Here are the winners…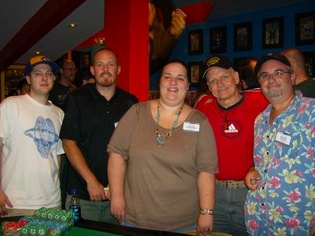 (pictured left to right, 4th place winner Sharky, 1st place winner McCutcheon, 3rd place winner Amy, 2nd place winner Byron, 5th place winner Joe)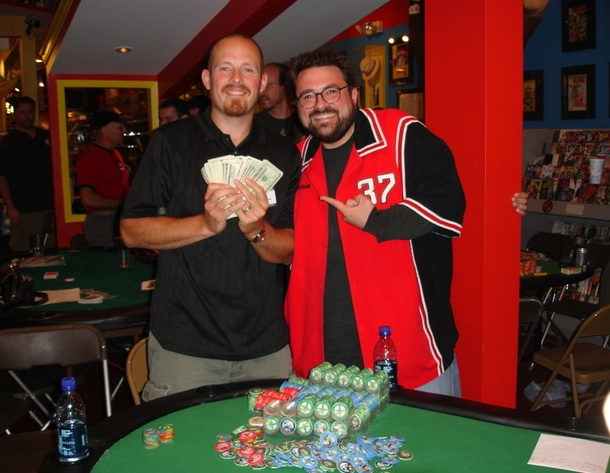 (Mike and me, with all 2800 bucks worth of Mike's winnings)
Saturday night, however, was the highlight of birthday week: the View Askew Prom!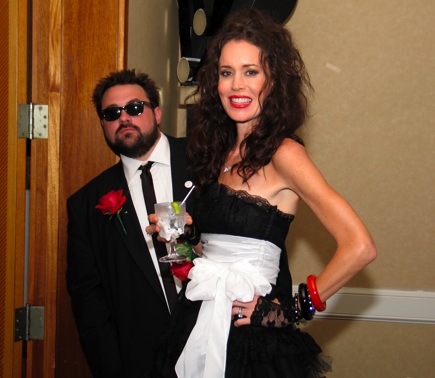 (Me and the Prom Queen, before I started sweating)
That's right: some three hundred people turned out in all their finery for an 80′s themed prom – which sounds awfully stupid, but rocked so fucking hard. I haven't danced in twelve years; you couldn't get me off the dance floor Saturday night.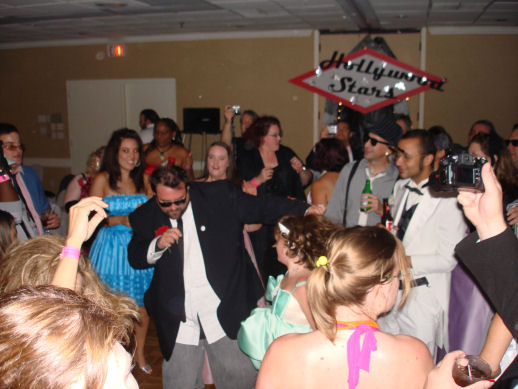 (A fat guy busts a move)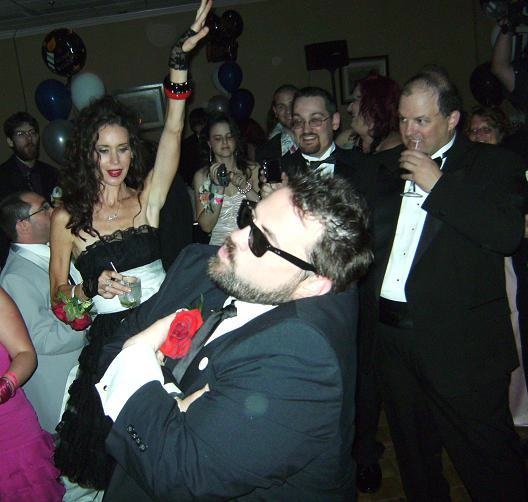 (Me, in my B-Boy Stance, during "Rock the Bells")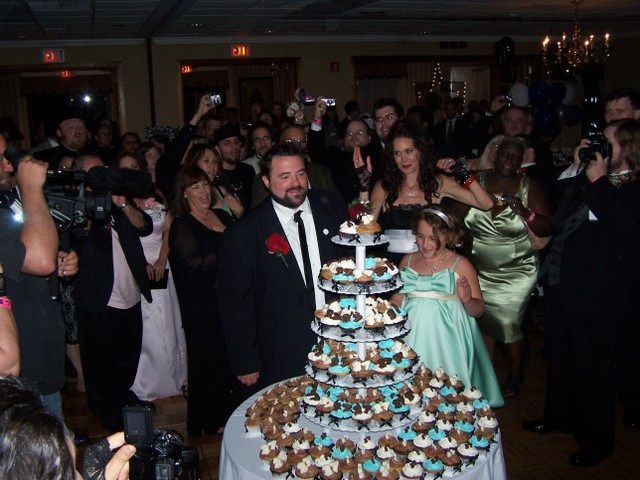 (Instead of a cake, we had 300 cupcakes, all adorned with chocolate "37″s)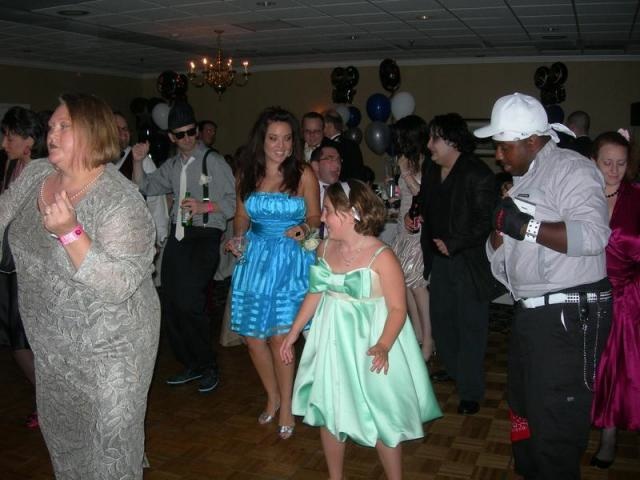 (Yes – the Electric Slide was busted)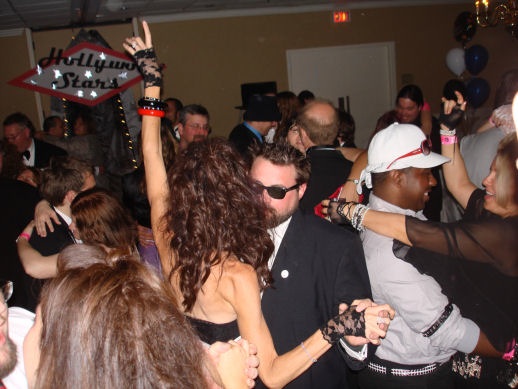 (Slow-dancing to "The Flame" with my wife – who appears to be trying to hail another partner)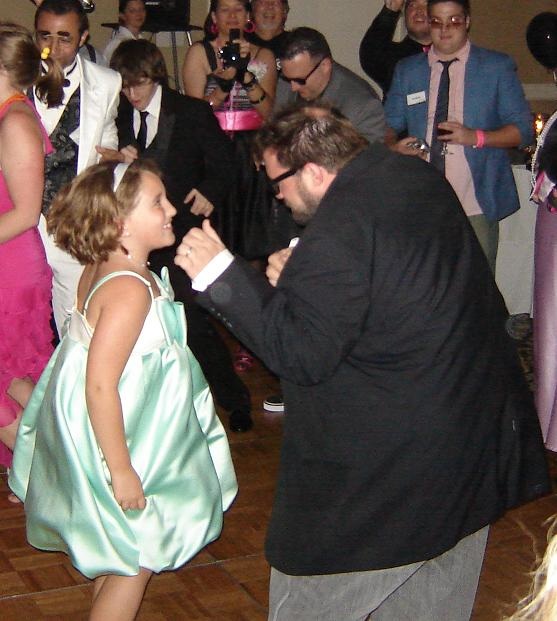 (Me cutting a rug with the prettiest girl at the Prom)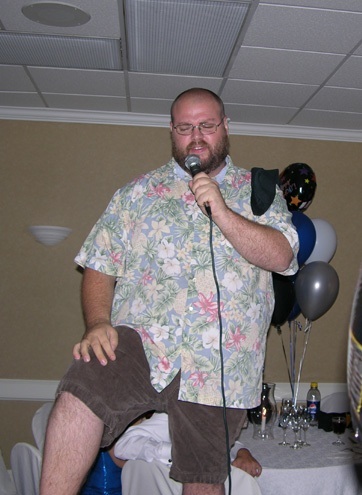 (Malcolm doing karaoke)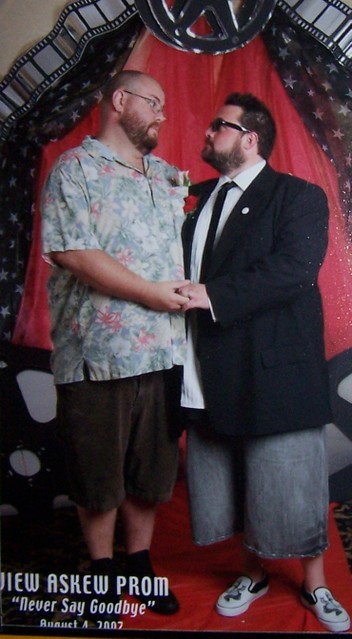 (We even had a photographer doing cheesey Prom Pics)
I'm tellin' ya, it may sound dopey and queer (meaning odd), but it was a blast. And while we went a bit overboard due to it being my 37th ("37″ being the number I built a career on), the whole thing was so successful, we might have to do it every year. There's simply nothing like being able to put together your own playlist, wearing whatever you wanna wear, or dancing with your wife and kid – all at your a prom you actually want to attend. Fuck high school: late thirties is the new adolescence!
Big thanks and huge props to my wife, Jen, for spending the last month organizing the shindig, and to Ming Chen and Gail Stanley for making sure it all came off smoothly.
Anyway, it was a great week, and a great way to get older. I'm balding, in the worst shape of my life, and a cunt-hair from turning forty, but fuck it: life is great.
Time to shed some pounds, though…
Y'know what else it's time for?
New SModcast!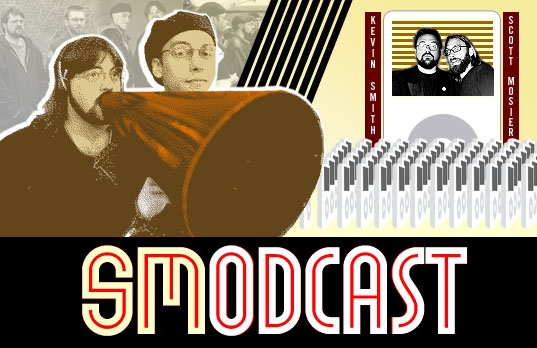 SModcast 23: Good Vibrations
The re-return of the distaff, in which our heroes discuss Canadian lockdown & toilet hijinks, reminisce about coming for the first time and losing it in a small town, get all "Sex And The City", cross the point of no return, make note of body types and what city is best for them, decry the bane that is Star Tours, discuss how many kinds of wonderful the "Simpsons" premiere was, and find new lines to cross.
Stop reading this and download that shit right now, then come back and let me know what you think.
Brought to you by the good folks at…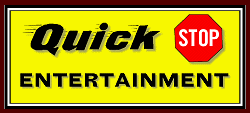 CLICK HERE FOR SMODCAST!
(Also available through an iTunes Subscription.)
ALSO!
Out on DVD today is the doc we produced, "Small Town Gay Bar".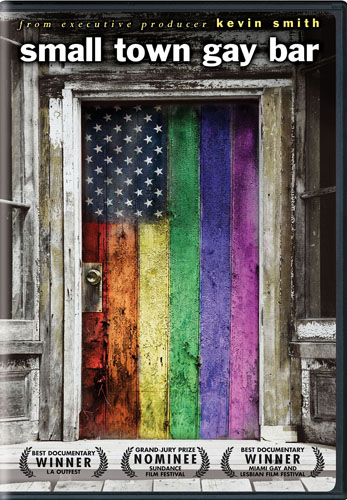 If you haven't seen it yet (and DO see it, please; it's an amazing documentary) pick it up here, or Netflix that shit, pronto.
Here's an intro clip I did with Malcolm (who directed the picture)…