The Year in Askew, Pt. 2
Thursday January 4 2007 @ 4:43 pm
For January to June '06, read here.
For July to December, read on…
July
- Richard Kelly's "Southland Tales" three part graphic novel debuts. Co-published by View Askew and Graphitti Designs, we hold a signing with Richard Kelly at the West Coast Stash.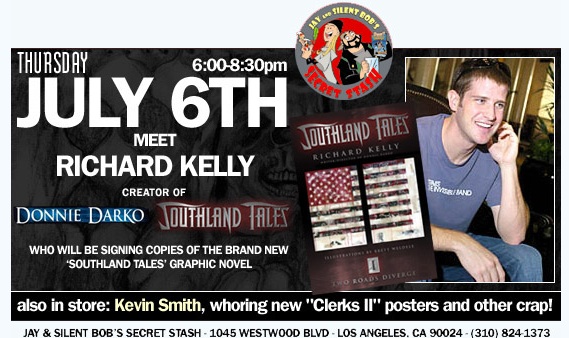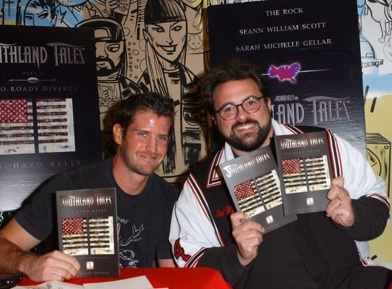 - I spend most of the month doing an assload of "Clerks II" press, including a VH1 "Clerks II" special, Leno, Ferguson, Conan, Tavis Smiley, Regis & Kelly, Henry Rollins, and an episode of Icons on G4tv.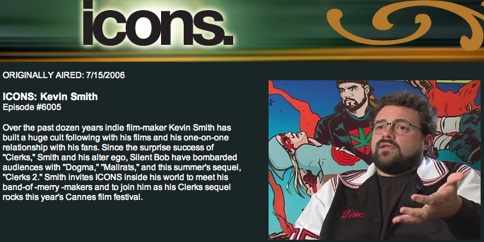 - After nearly a month straight of doing press on the road, we wrap it all up with an L.A. junket for "Clerks II" at the Four Seasons.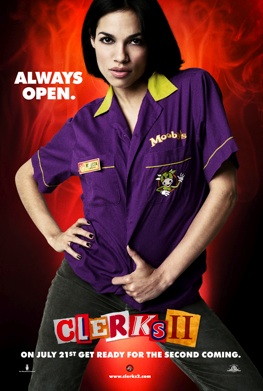 - "Clerks II" premieres at the Cinerama Dome. Since it's an 800 seater, we're able to bring all of the cast and crew (which is rare for a premiere).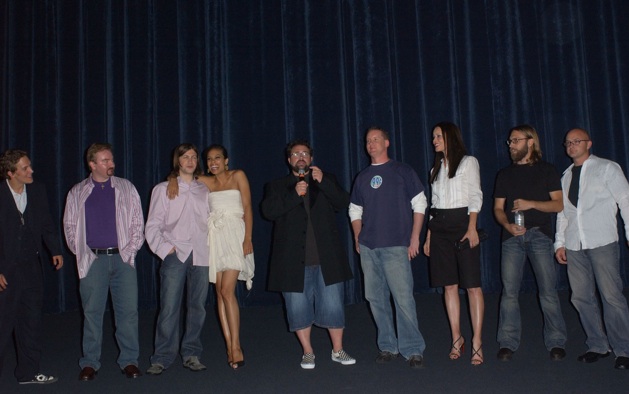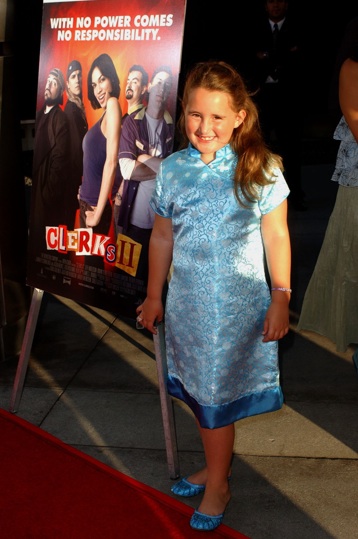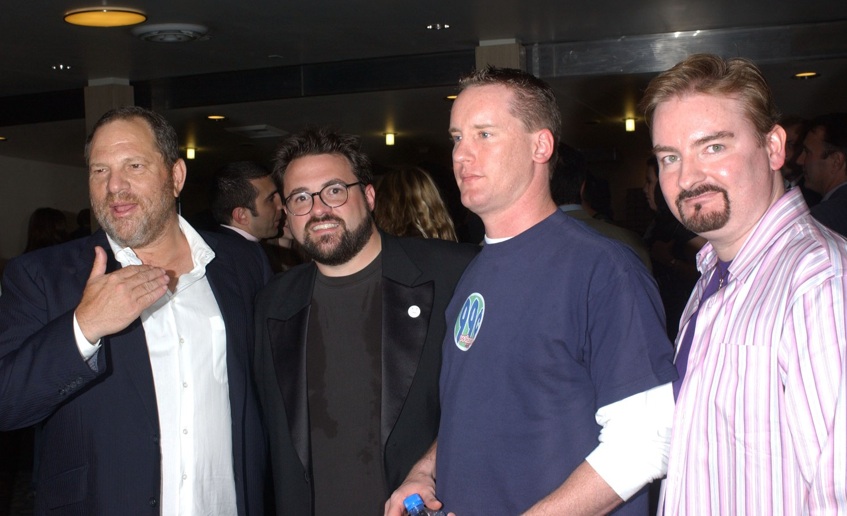 As always, I sweat profusely.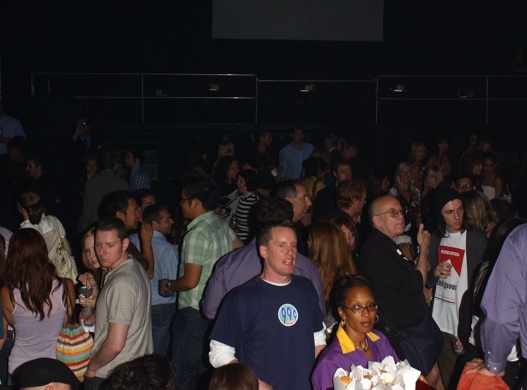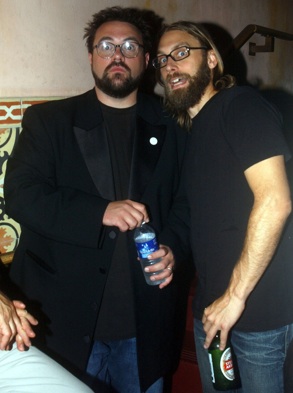 The post-party is at the Avalon, down the street.
- I shoot over to Austin for a "Clerks II" screening and Q&A to benefit the Austin Film Society.

- Then, I head east for more press and another "Clerks II" screening and Q&A with Janet Maslin at the Jacob Burns Center in New York.


- With mere days to go before the flick's opening, and nary a bump in the road thus far, I blow it by getting into a fight with Good Morning America movie critic Joel Siegel – first in the NY Post and then on the Opie & Anthony show. For me, it is – bar none – the only negative moment on the road of "Clerks II".

- Back in L.A. for opening day, when we put up the last "Train Wreck" video blog. That night, I do Q&A's after every evening show of "Clerks II" at the Arclight.
- The next morning, I head down to San Diego for the ComiCon. What was usually a two and a half hour drive took four and a half hours, making me late for my panel in the 6000 seater. Rosario filled in for me, and I wound up getting on stage hours later, after the "Spider-Man 3″ panel. When I leave the Con, I head over to the UltraStar Cinemas and do more a pair of Q&A's after their evening screenings.
- "Clerks II" opens to $10million that weekend. Considering it only cost $5 million to make, everyone's happy…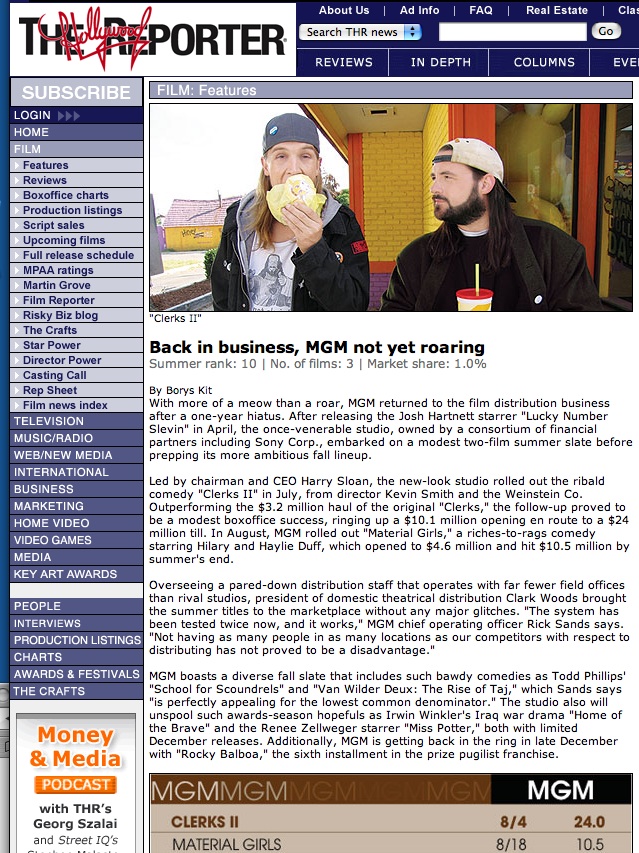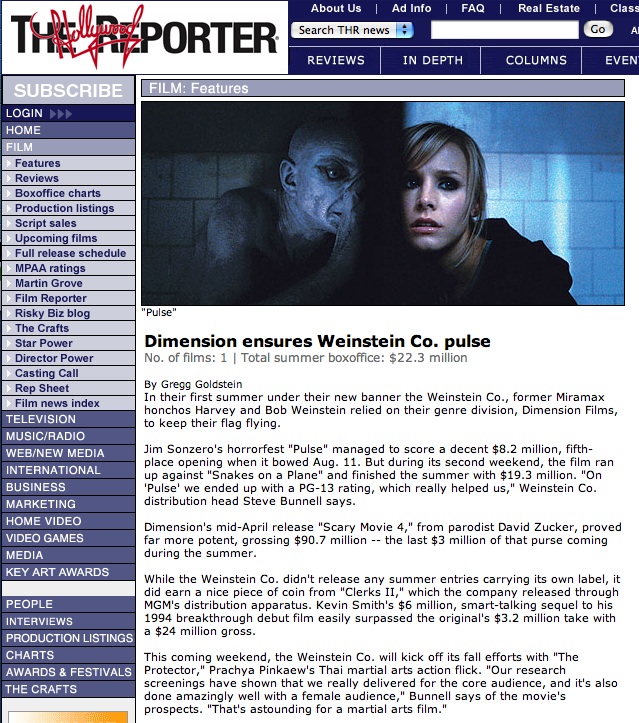 …Everyone except Nikki Finke, an industry columnist who I get into a fight with over the flick's profitability. New Year's resolution: stop getting into fights with people in the press.
- In the midst of all of this, the message board at ViewAskew.com celebrates its tenth anniversary.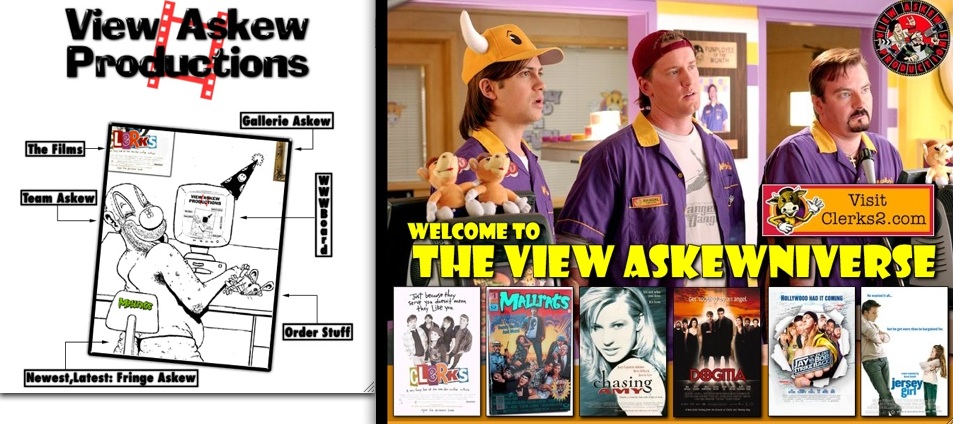 (Main page at ViewAskew.com, circa '96……………………………………………………Main page at ViewAskew.com, circa today)
- I wrap up the month by recording a voice for a straight-to-video "Superman" animated flick, directed by Bruce Timm, based on "The Death of Superman" storyline from the comics.
August
- I turn 36. A day later, I sit in for an ailing Roger Ebert on "Ebert & Roeper".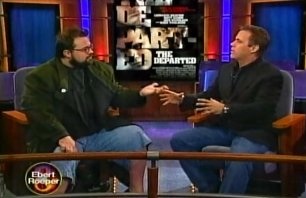 - While in Chicago, I do yet another Q&A at yet another Wizard World ComiCon.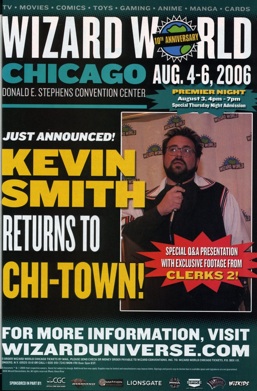 - From there, I head back to the Motherland: NJ like a motherfucker. I do a signing at the East Coast Jay and Silent Bob's Secret Stash that lasts thirteen hours. The line seems to go on forever.
- The next day, the Rolling Roadshow presents a screening of "Clerks" in Marine Park in Red Bank.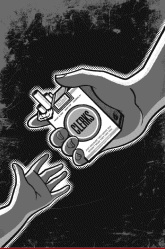 Originally scheduled for outside the Quick Stop in Leonardo, the event had to be moved at the last minute, and Red Bank came through like a champ. Over two thousand people cram onto the lawn in front of the big screen, with hundreds more turned away.

- From there, Jen and I fly to Scotland for the Edinburgh International Film Festival, where "Clerks II" wins the Audience Award (with 78% of the vote, no less).
- From Scotland, Jen and I fly to Australia. There, we're met by Harley, Byron and Gail. It's the first trip Down Under for all of us, but I spend most of the trip working, doing press and then Q&A's after a pair of sold-out screening in both Sydney (2000 seater) and Melbourne (1100 seater).
September
- I spent the first few weeks in September putting together the "Clerks II" DVD.


- We hold the Movies Askew Festival at Cinespace in L.A.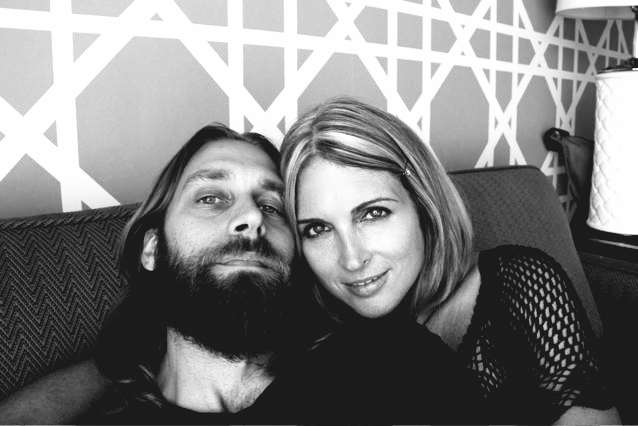 - The impossible happens: Scott Mosier gets married. Alex Hilebronner is the miracle-worker in question.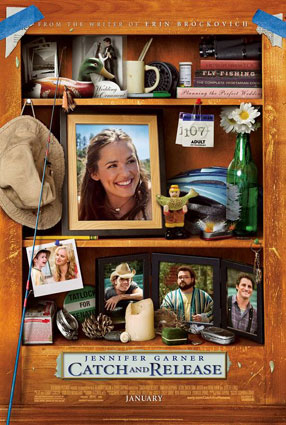 - The old gang gets back together for the "Catch & Release" poster shoot.
- I head down to Florida for another Q&A, this time with the Florida Future Filmmakers Society in Orlando.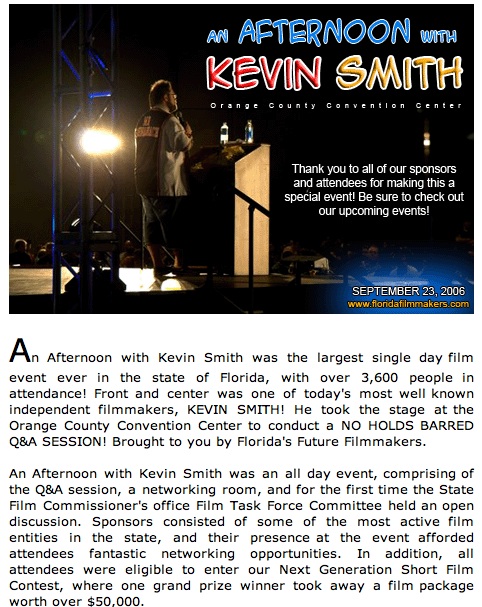 —————————————-
The FFFS does something no other venue has ever done: they build a backdrop for me. I spend the day hanging out in front of a faux Quick Stop and RST Video.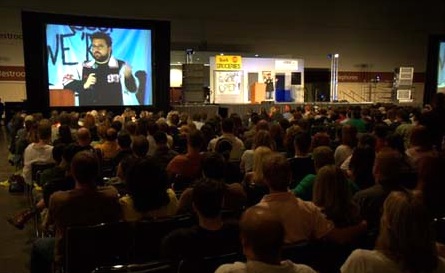 —————————————————————————-
- I sit in for Roger Ebert a second time on "Ebert & Roeper" (where I give "The Departed" a rave).
- GQ and the Motion Picture and TV Fund Director's Series asks me to host a screening of flick I really like. For the second time this year, I choose "House Party".
October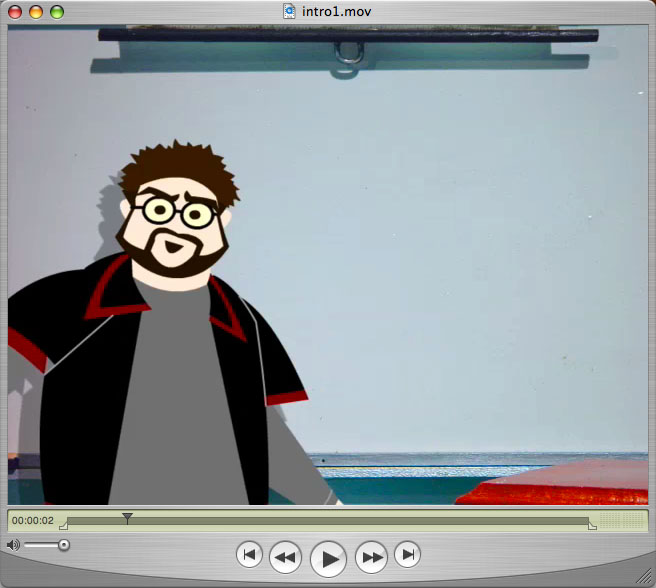 - I become a professor… sort of: the UCLA "Sucks Less with Kevin Smith" class kicks in. Thanks to my MtvU partner in crime (Brian DeCubellis) and my UCLA cohorts (Barbara Boyle, Rory Kelly and David Harrison) We shoot the first two episodes at the Secret Stash three weeks later. The show airs on three platforms: MtvU, the Amp'd Mobile Phone, and MtvU.com.
- I have a dinner meeting at Chateau Marmont with Robb and Mark Cullen, Steven Gyllenhall and Darren Star about "Manchild".
- I fly out to Hawaii for the Louis Vuitton Hawaiian International Film Festival, where I do yet another Q&A (at the gorgeous Hawaiian Theater) and, covered in leis, receive the awesome-looking Maverick Award.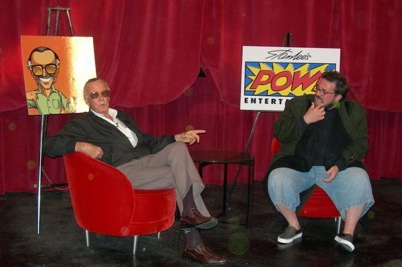 - I moderate a discussion with Stan Lee at Grauman's Chinese Theater for the Hollywood Master Storytellers group.
November
- We have some poker games at the office with some folks from the View Askew board.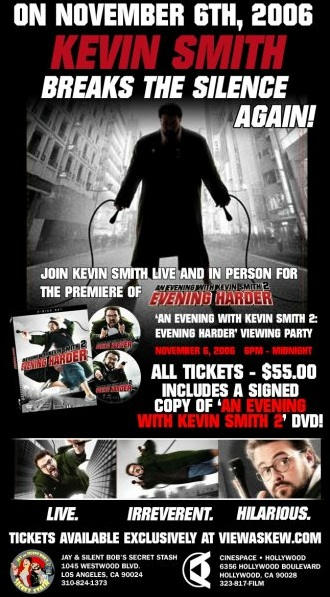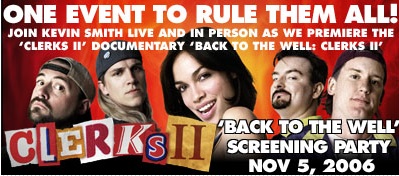 - We hold a pair of DVD screening events at the awesome Cinespace.
Jeff and Trevor roll by for a little Q&A.
Keynote speaker at the Academy's Nichol Awards dinner at the Bev Wilshire
(http://www.oscars.org/press/pressreleases/2006/06.11.15a.html)
(http://scottydude.blogspot.com/2006/11/2006-nicholl-fellowship-dinner.html)
- I hit "The Tonight Show" and "The Late Late Show" to promote the "Clerks II"/"Evening Harder" DVD's.
- After shooting our entire six episode season, Jen and I host a "Sucks Less" wrap party at the house.
- In an effort to give Gail her first Thanksgiving off in 35 years, we fly out to Tahoe for some gambling/skiing/gobbling. Byron, however, throws his back out, so we spend Thanksgiving eating room service instead, then drive back to L.A.
- John Corbett, Paul Hipp, James Purefoy and I take surfing Lessons in Marina Del Ray, to prepare for "Manchild". Mercifully, there are no pictures. In prep for our pilot shoot, we do full cast read-throughs of the script – first for Sony, then for Showtime.
http://www.newsaskew.com/images/10_albert_c2.jpg
- We hold a "Clerks II"/"Evening Harder"/"Now You Know" signing at the Stash, with Jeff, Trevor, Mewes, Jen and me.
http://www.newsaskew.com/images/13_albert_c2.jpg
- The "Clerks II" DVD debuts at number 4 on both the rental and sales charts.
December

- I moderate another Stan Lee discussion, this time with Marvel EIC (and old friend) Joe Quesada as well – Marvel: Then & Now, held at UCLA.
- We spend eight days shooting the "Manchild" pilot.
- Then, I spend five days shooting my role in "Live Free or Die Hard".
- The "Sucks Less" Season Finale airs.
- We hold another poker game at the office.
- "Clerks II" gets some year-end love:
In the UK, Film 2006 viewers vote "Clerks II" into the top ten for the year.
Bill Gibron over at PopMatters.com does the same.
We made it on to another list at PopMatters, as well: The (20) Best Films of 2006, ranking at number 12.
SlashFilm ten-bests us as well.
Cinematical top-tens us, too.
MtvIndia names us the best film of the year.
And Doug Pratt over at Movie City News names the "Clerks II" DVD one of the ten best of the year.
- Thanks, everybody, for making this one of the best years of my life. In this job, the freedom of expression is gratifying, the money is nice, but it's you folks – the people who actually watch my bullshit – that really keep me going (so if you want me to stop, quit it). As always, I'm in your debt.
I leave you now with images of "Clerks II" from around the world…
Italy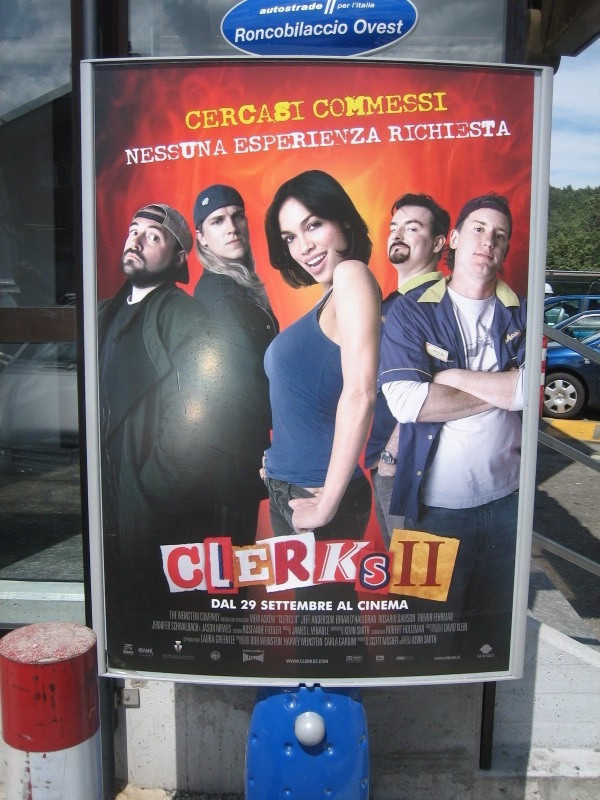 Russia
Israel