Where the Fart Have I Been?!
Sunday June 25 2006 @ 3:27 pm
I've been everywhere, man. I've been ev-er-y-where.
Spent all of last week going city-by-city, doing advance "Clerks II" press (radio, print, tv) in Minneapolis/St. Paul, Chicago, Detroit and Boston. This week, I'll be in Philly on Monday, New York on Tuesday, D.C. on Wednesday, Atlanta on Thursday, and Toronto on Friday. If you're in any of those markets, and you're up in the mornings, you might be able to hear me on any number of morning radio shows (though none in NYC on Tuesday morning).
Brian O'Halloran and Jeff Anderson (Dante and Randal) have also been out on the road doing press, visiting San Diego, San Francisco, Portland, Seattle, Denver, Houston and St. Louis. This week, they'll be in Kansas City, Cleveland and Miami.
As we get closer and closer to July 21st, there's a bunch of "Clerks II" stuff happening:
The final theatrical poster is in theaters…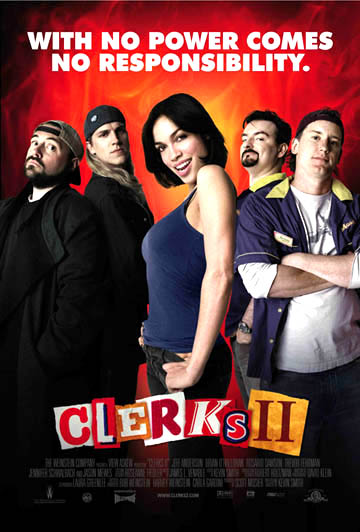 As are the teaser posters (including a new Rosario poster)…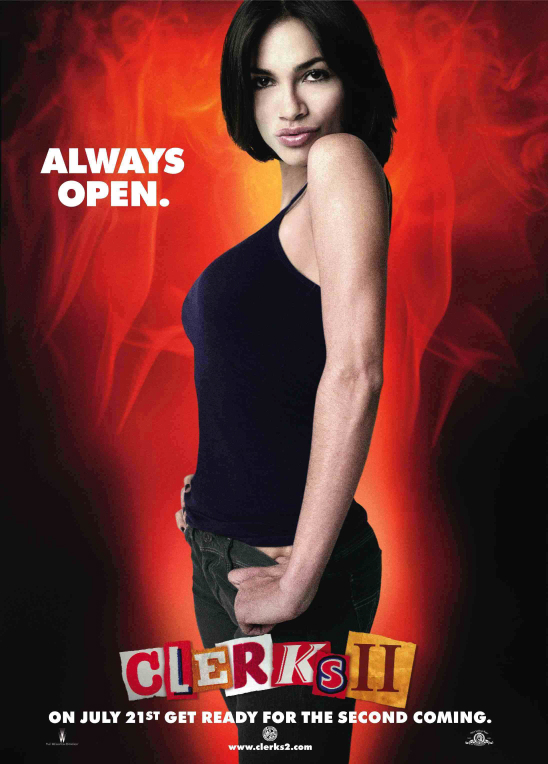 An exclusive intro by yours truly and an overview "Train Wreck" is running at the Apple.com's trailer page, right here.
And in the Sunday edition of the holy New York Times, there's a two page article about "Clerks II" and me…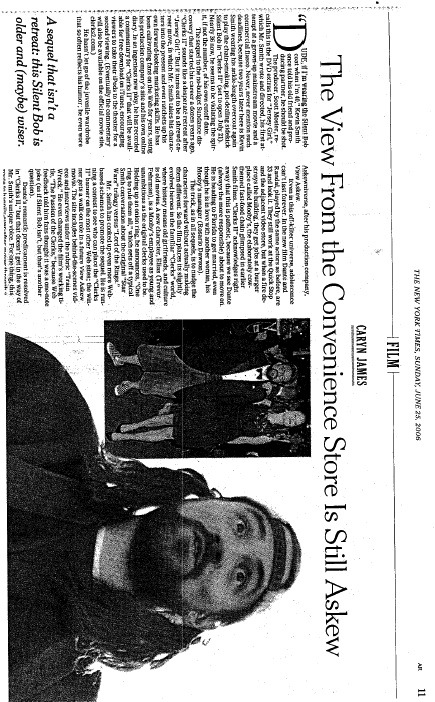 You can read it at the above link (where there's also a pretty cool little A/V slideshow that gives an overview of my flicks), or check it out below…
For Kevin Smith, the View From the Convenience Stores Is Still Askew
By CARYN JAMES
Published: June 25, 2006

DUDE, if I'm wearing the Silent Bob coat when I'm 40," Kevin Smith once told his old friend and producing partner, he should be shot. The producer, Scott Mosier, recalls this in the DVD extras for "Jersey Girl," which Mr. Smith wrote and directed, his first attempt at a grown-up mainstream movie and a commercial fiasco. Never, never mention such deadlines, because two years later here is Kevin Smith wearing his ankle-length overcoat again to play the chain-smoking, pot-dealing sidekick Silent Bob in "Clerks II" (set to open July 21). Nearly 36 now, he seems to be violating the spirit, if not the number, of his own cutoff date.

The sequel to the no-budget Sundance discovery that started his career a dozen years ago, "Clerks II" sounds like a desperate retreat after "Jersey Girl." But it turns out to be a shrewd career move, in which Mr. Smith takes his characters into the present and even ratchets up his own forward-looking marketing skills. He has been cultivating fans on the Web for years, using his production company's site and his own online diary. In an ingenious new ploy, he has recorded a commentary for "Clerks II" that will be available for free download on iTunes, encouraging viewers to take their iPods to the theater for a second viewing. (Eventually the commentary will also be available on the official movie site, clerks2.com.)

He hasn't let go of the juvenile wardrobe that so often reflects his humor; he even wore his trademark short pants to the opening of "Clerks II" at this year's Cannes Film Festival. But the film itself, and the extended standing ovation it got after that midnight Cannes screening (preserved, naturally, in a video clip on the "Clerks II" site), suggest that his movies are not just for adolescent boys, and never were.

The original "Clerks" offered a distinctive new voice lackadaisical but distinctive and is still surprisingly funny. Dante and Randal (Brian O'Halloran and Jeff Anderson), two unambitious convenience-store clerks in New Jersey, fritter away their day talking about women, sex and movies, while the stoners Jay (Jason Mewes) and Silent Bob stand outside, and outrageous disasters occasionally intrude. (A man dies in the darkened restroom, and Dante's ex-girlfriend mistakenly has sex with the corpse.) Shot in gritty, cheap black and white, the film has a meandering story, unprintable dialogue and low-key attitude that pointed toward later cult hits like "Office Space" and "South Park."

In the six films Mr. Smith has made since, his gifts have become clearer: he is terrific at irreverence, as in the "Clerks" movies and the underrated "Dogma" (1999); he can be awful at emotional sincerity, as in "Jersey Girl" and the weaker parts of "Chasing Amy" (1997).

It's not enough for the new "Clerks" to be irreverent, though, or to mark a return to safer low-budget filmmaking ($5 million to make, compared with $35 million for "Jersey Girl," which took in just a bit more than $25 million). The sequel feels fresh because Mr. Smith is not simply recycling. He does recycle and refer to his own work, a lot. Main characters from one film pop up in small roles in others, and Jay and Silent Bob appear in every one except "Jersey Girl." Together Mr. Smith's films constitute their own little world known to fans as the View Askewniverse, after his production company, View Askew.

Even in this off-kilter universe, adolescence can't last forever. In the new film Dante and Randal, played by the same actors as before, are 33 and look it. They still work at the Quick Stop and the adjacent video store, but when a fire destroys the building, they get jobs at a burger place called Mooby's, the elaborately cow-themed fast-food chain glimpsed in earlier Smith films. "Clerks II" acknowledges right away that this is pathetic, because we see Dante (always the more responsible) about to move on. He is heading to Florida to get married, even though he is in love with another woman, his Mooby's manager (Rosario Dawson).

The trick, as in all sequels, is to nudge the characters forward without actually making them different. So the film places its slightly evolved heroes in the familiar "Clerks" world, where history means old girlfriends, and culture is old movies. A new character, Elias (Trevor Fehrman), is a Mooby's employee as young and unambitious as the original clerks used to be. Holding up an onion ring, he announces, "One ring to rule them all," which sets off a typical Smith conversation about the original "Star Wars" trilogy versus "Lord of the Rings."

Mr. Smith has cooked up even more Web-based schemes to promote the sequel. He is running a contest to see who can place the "Clerks II" banner on the most other Web sites; the winner gets a walk-on role in a future View Askew movie. The site includes behind-the-scenes videos and interviews under the rubric "Train Wreck." He even changed the film's working title, "The Passion of the Clerks," because Web feedback told him fans thought it was a one-note joke (as if Silent Bob isn't, but that's another question).

Dante's romantic predicament is resolved in "Clerks II," but that doesn't get in the way of Mr. Smith's unique voice. For one thing, this route to happily-ever-after moves through a scene about sex with a donkey. It was the absence of his irreverent attitude that doomed "Jersey Girl," not some post-"Gigli" curse of Bennifer. (Remember Bennifer? The old Brangelina?) Ben Affleck plays a man whose wife played by Jennifer Lopez , then his fiancée dies early in the film, leaving him to raise their daughter. He moves back to New Jersey, where Mr. Smith's heart so clearly is, to live with his father (George Carlin).

Mr. Smith had married and had a daughter by the time of "Jersey Girl," and has often suggested that the film is a valentine to family life. O.K., if he says so. But that personal attachment to the themes didn't translate; the film is so generic, it could have been made by any writer or director for hire. It's good that he has gotten the sincere family-man stuff out of his system, at least on screen.

A more blatant family dynamic feeds into "Clerks II." Mr. Smith's wife, Jennifer Schwalbach, plays Dante's fiancée, and their nearly 7-year-old daughter has a cameo as a girl looking out a restaurant window, wearing the same red-ribboned pigtails that Silent Bob wears in one scene. Their daughter is named Harley Quinn (also the name of a harlequin-costumed villain from the Batman comics), so you have to hope she has inherited a sense of humor. (Mr. Smith was ahead of his time in oddball baby naming, though, beating the Apple-Suri-Shiloh phase by years.)

In earlier works too when Mr. Smith came at emotions directly, the effect was artificial. In "Chasing Amy" Mr. Affleck's character falls madly in love with a lesbian, only to flee when he discovers she has also had a wild sex life with men. "Chasing Amy" still offers a window onto the way men talk about women, and men and women talk to one another, with blunt dialogue rarely heard in movies. But the film falls apart whenever the conversation turns sincere.

"Dogma," his most ambitious and idea-driven film, may be a better indication of where Mr. Smith can go. Mr. Affleck and Matt Damon play angels trying to get back into heaven, and they are surrounded by other deliciously unlikely characters who descend on New Jersey, including Alan Rickman as the voice of God, Alanis Morissette as God Herself and Chris Rock as Rufus, the 13th apostle, who was cut out of the gospels because he's black. The film even has a proto-"Da Vinci Code" moment when an ordinary woman named Bethany (Linda Fiorentino) learns she is the descendant of one of Jesus' siblings. "You make it sound like there's some church conspiracy to cover up the truth about Christ," she says suspiciously. Steeped in faith but skeptical of organized religion, "Dogma" proves that Mr. Smith who regularly and unironically puts God a the top of his thank-you list in his films' closing credits is often best when laughing about the things he loves.

He has gotten past early misfires, like "Mallrats" (1995). And "Jay and Silent Bob Strike Back" (2001), in which the pair travel to Hollywood, is for Smith cultists only; for anyone else a little Jay and Bob is plenty. A more recent bad sign is Mr. Smith's stint appearing in "Roadside Attractions," a series of supposedly wacky on-the-road segments on the "Tonight" show. You can't get more conventional or middle-aged than "Tonight"; next thing you know he'll be wearing long pants. But for now the voice and spirit behind "Clerks II" are as brash and unmistakable as ever.
While two "Clerks II" commercials ran during the NBA Finals last Sunday, the majority of the TV spots begin in earnest this week, mostly on networks like Comedy Central and Spike. There's a pretty sweet VH-1 "Clerks II" special that starts running in a couple of weeks as well. At this point, if the movie doesn't do okay at the box office, it won't be for lack of press and coverage.
We're now less than a month away from opening day, folks. Fingers crossed.