RED STATE IN THEATERS THIS SUNDAY!
Wednesday September 21 2011 @ 3:19 pm
First off, big thanks to E One Films in the UK and everyone who came to the Red State UK tour last week. EVERY SHOW WAS SOLD OUT, the audiences rocked and the Q&A's were a blast! Can't wait to see you all when we return with JAY & SILENT BOB GET OLD in February!
But here and now, in the U.S. of A., Red State is doing the screen-n-stream thing SUNDAY night! Here's a list of links to participating theaters near you!
Read this press release, then look below for lots more details, including a list of theaters where this is happening…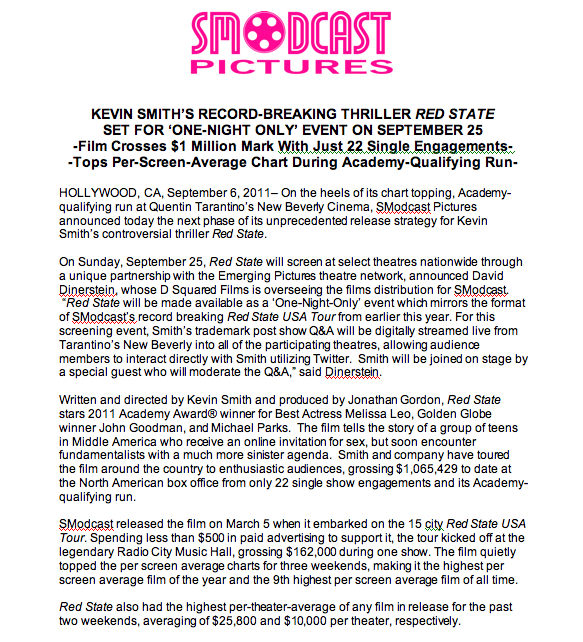 So if you're in Los Angeles on September 25th, join us at our cinematic home, the New Beverly Cinema for another round of Red State, followed by a Q&A. And if you can't be at the New Beverly on 9/25 but still want to get in on the action? Hit one of the participating theaters and watch that shit get streamed to you LIVE! Ask me questions even if you're not at the New Beverly, via Twitter hashtag! It's gonna be neat!
Not enough to get you out of the house, now that Red State is on Video-On-Demand and available on your computer right now? Okay – I'll gild the fuck out of that lily…
We cap the streaming screening and Q&A with a mini ep of HOLLYWOOD BABBLE-ON!
That's right: see Ralph Garman as creepy Caleb in Red, then kick back and enjoy him in a mini episode of Babble to cap off your GARMY excursion!
Part 1 of why I'm in love with this: most of these theaters are in the nooks and crannies of the distribution world. These are suburban and college screens. Don't look for us at any of the big chains: AMC, Regal, Cinemark all went emo about our Video-On-Demand supposedly going before theatrical (which technically, it didn't: we played on 15 screens for single-night engagements – once even at an AMC in Kansas City). No worries – keep your empty multiplexes, gramps: we're going to the Mom & Pop shops instead! We stayin' indie, son!
Part 2 of why I'm in love with this: it's got legs. The screen-n-stream-Q&A-live-pod event we're doing with Emerging Pictures is something unique that we can't replicate… but we can do more than once: if we put asses in seats for this and make the participating theaters happy, then we plan to do this bi-weekly or monthly!
Essentially, what we're hoping to do in these theaters is a live streaming second semester of the Red State of the Union Q&A Class. Each time out, we'd run Red, then follow it with a Q&A with a different cast or crew member! So this first time out, it's me and Ralph. If this works, the next time we screen-n-stream, we follow it with a Q&A with Michael Parks! The next screening, it's Melissa Leo time! Then? Goodman! We'd do it like we did the podcast class at SModcastle last year, but this time, the class is live streaming in theaters as well – all across the country! You don't even have to be in Hollywood to attend, because we're on a screen down the street from your house, interacting with you and fielding your questions while you're miles away!
And if this works? Then we can do it with SModcast. And Jay and Silent Bob Get Old. And Plus One. And Tell 'Em, Steve-Dave.
If the Harvey Boys and SModCo are gonna ask you to leave the comfort of your home and laptop screen to hit a movie theater, you can be damn skippy we're gonna over-deliver like a fat man eating pussy!
SModCo. As dependable as a fat man eating pussy!
Hm. Might not play in the midwest. Let's go with…
SModCo. We're in the future, bitch!
True, but too generic. How about…
SModCo. Where the puck is going.
Too inside. Lemme try…
SModCo. As dependable as a fat man eating pussy!
Wait – I did that one already…
I'll keep working on a slogan for SModCo. Meantime, here's a partial list of participating theaters. We'll get an official page with links going at CoopersDell.com soon!
CALIFORNIA