WATCH THE PHELPS FAMILY WATCH RED STATE!
Friday March 11 2011 @ 1:05 pm
Twitter will introduce you to all sorts of interesting people.
Like Megan Phelps.
Over the last year, Megan and I have been carrying on a rather one-sided, torrid little Tw'affair. There were Moonlighting-like levels of sexual tension and lots of speculation about "Will They/Won't They?"
After all this time of doing it digitally, me and the "Marilyn" of the Phelps' Family – Leggo-My-Meggo herself – are gonna finally meet!
On a stage!
For one night only!
TOMORROW – Saturday, March 12 – only at the Kansas City Midland Theater!
SEE the fun-filled-freak-show of a real-life Phelps Family protest as you enter!
SEE RedState WITH actual members of those religious rock stars, The Family Phelps!
Hear Megan Phelps' review of the movie afterwards! And lay eyes on not just one, but TWO hottie haters – as cousin, Jael joins in! The Phelps Family Bible Bunnies will be in full effect, trying to convert, and I'll be in full effect, trying to pervert. Let the fire-and-brimstonerific laugh riot begin!
Remember: if they're on my stage, that's one less bereaved family they're harassing for a few hours.
But even better?
This is gonna be like watching STAR WARS with Darth Vader right there in the audience! Expect epic crowd interaction of SOLELY the hand-clapping/cheering variety!
VERY IMPORTANT!
As much as you may disagree with the Phelps and their antics, tomorrow night, at the Midland Theater, they are our guests. That means I'm asking everybody to please keep your hands to yourselves. The Phelps are not only religious, they're litigious – and they just won a Supreme Court case, so chances are they can sue you into the poorhouse without missing a single scheduled protest.
Be smart, don't be an asshole, look but don't touch.
SHOW YOUR CREATIVE SIDE!
The Phelps Family will be carrying only picket signs and a creepy total-recall of shit dead people said thousands of years ago, before we knew a lot more about indoor plumbing! But anyone can carry a sign with shit writ all over it! So show your love of all things Phelpsian by making your own sign to wave!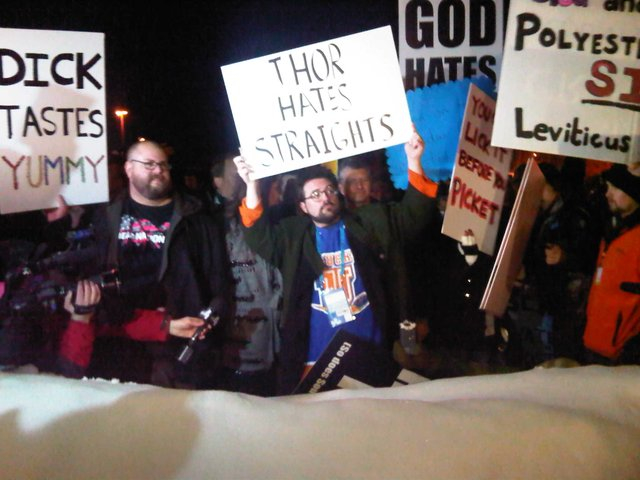 The 100 Best Signs will GET IN FREE!
Protest their protest with your own wacky protest, and for one night only, don't hate the Phelps: become the Phelps!
Screening starts at 8pm.