Kevin Smith at Carnegie Hall – June 17, 2009
Wednesday April 15 2009 @ 11:14 pm
Practice, man….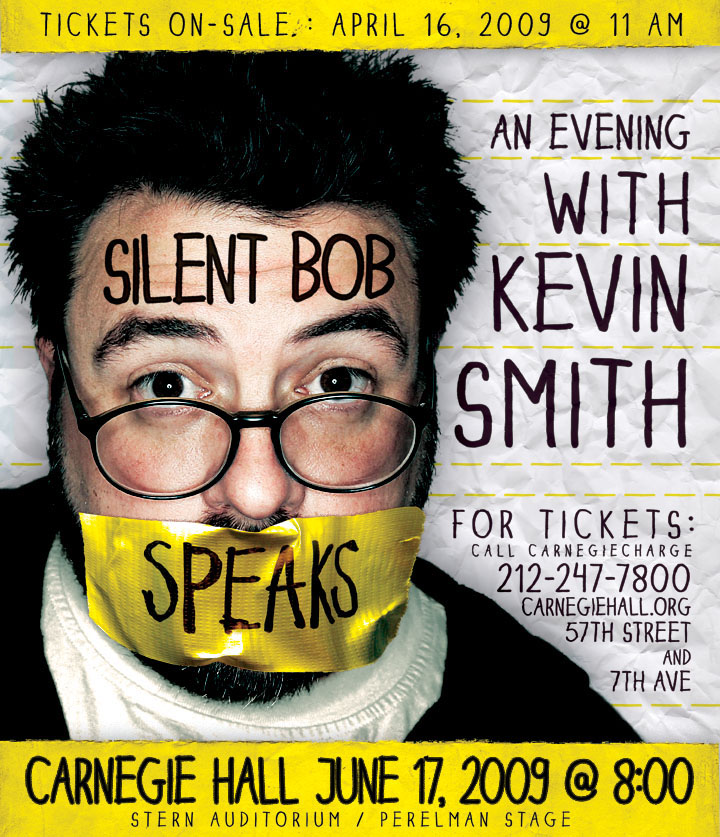 HOLY FUCK!!! I'M GONNA PLAY CARNEGIE HALL!!!!!!
This will only ever happen once in my lifetime, and it's gonna be a serious fucking hoot. Maybe even a holler. This, my friends, will be worth the trip. Promise.
We've put together this info page with a link for ticket sales. Please note, however: THE LINK FOR TICKET SALES WILL NOT GO LIVE 'TIL ELEVEN A.M. THIS MORNING, EST (MEANING TODAY).
Carnegie Hall's not announcing the show/sales info to the rest of the world (who won't care anyway) 'til 4/20 (har-har). That means, if you're so inclined to watch a fat boob (who ironically sports two fat boobs) sweat and swear on the greatest stage in the world, the best seats are up for grabs for the next few days.
I'd be lying if I said this was a dream come true; because what fucking useless pud-knocker with no quantifiable talents would ever dream about playing Carnegie Hall. I'm not Yo Yo Ma; I'm Mo' Mo' Devil Dogs.
And yet, here we are.
I hope you can make it. I really do (especially 'cause that place is a fucking barn that I don't know if I can fill).