Batman Stash East Signing!
Wednesday November 5 2008 @ 11:53 pm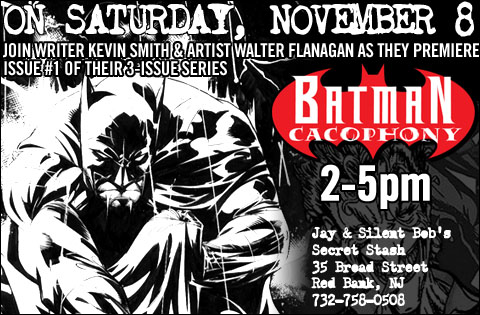 Kevin Smith and Walt Flanagan Present Batman: Cacophony number 1 at Jay & Silent Bob's Secret Stash
The Details:
Date:
Saturday, November 8, 2008
Time:
2:00pm – 5:00pm
Location:
Jay & Silent Bob's Secret Stash
35 Broad Street
Red Bank, NJ 07701
(732) 758-0508
Info:
Join writer KEVIN SMITH and artist WALTER FLANAGAN on Saturday November 8th as they premiere Issue 1 of their 3-issue series BATMAN: CACOPHONY.
This special signing will take place at Jay & Silent Bob's Secret Stash located at 35 Broad Street in Red Bank, NJ from 2-5PM.
PLEASE NOTE:
This event takes place from 2-5pm. PLEASE ARRIVE EARLY AS WE WILL BE CAPPING THE LINE TO ENSURE THAT THE SIGNING ENDS AT EXACTLY 5pm.
ALL attendees MUST purchase a copy of BATMAN: CACOPHONY 1 in order to attend this event. All other autographed items will be limited to
2 items per person – NO EXCEPTIONS!.
Again, PLEASE ARRIVE EARLY.
Get more details here: http://www.viewaskew.com/events/cacophony/